Arts & Culture
601 Tully to offer series of free eco art classes for children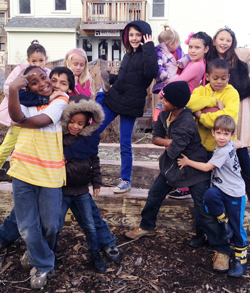 601 Tully, the center for engaged artistic practice on Syracuse's Near West Side, is offering a series of free eco art classes for children this spring. Classes will be on Saturdays, 1:30-3 p.m., beginning on Feb. 2. The nine class series will conclude with a gallery exhibition at 601 Tully on May 25 at 1:30 pm. Any elementary or middle school age child is welcome to register.
The classes at 601 Tully are developed by a team of staff members directed by Professor Marion Wilson, founder/director of 601 Tully, in collaboration with program coordinators in art education, ecology and community arts. This series will help children realize their social and environmental impact. Through a range of media and by sharing personal stories, students will learn through collaboration, constructing their own meaning for "eco art" based on needs and interests, style and pace for learning. Students will collect materials for up-cycling and create new works of art.
601 Tully art education program coordinator Bobbi Petrocci will be co-instructing the series. "The earth and social friendly nature of the classes will encourage natural, organic and sustainable works with concern for a healthy community," she says. Activities will include recycling, composting, planting and creating with reclaimed materials, Petrocci says.
To register for eco art classes, contact Petrocci at bpetrocci@syr.edu for more information, or complete the registration form and mail it to 601 Tully.