Business & Economy
Central New York receives $93.8 million in regional economic development funding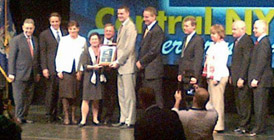 The Central New York Regional Council (CNY-REDC), co-chaired by SU Chancellor and President Nancy Cantor, was awarded $93.8 million dollars and was named a top performer among New York's 10 regional councils today by Gov. Andrew Cuomo.
A centerpiece of the governor's strategy to jumpstart the economy and create jobs, the regional councils were put in place in 2011 to redesign the state's approach to economic development from a top-down model to a community-based, performance-driven approach. The initiative empowers community, business and academic leaders, as well as members of the public in each region of the state, to develop strategic plans specifically tailored to their region's unique strengths and resources in order create jobs and support economic growth.
Chancellor Cantor's co-chair of the Central New York regional council is Robert Simpson, president of CenterState CEO. The CNY-REDC strategic plan created under their leadership in 2011 earned a "Best Plan" designation and $103.7 million last year.
"Gov. Cuomo's repeat recognition of the CNY REDC strategic plan as one of the state's best underlines the centrality of collaboration to spur economic revitalization," says Cantor. "Our broad coalition earned 'top performer' designation both for its success in implementing our 'Best Plan' award from last year and for the promise of new projects, from investing in our region's most valuable asset—its people—with a new health center on Syracuse's South Side to enhancing our regional farm-to-table infrastructure with a food processing plant in Canastota. Central New York's cross-sector partners are showing that we have what it takes to compete in the next economy."
For a complete list of the projects by region, visit the NY.gov website.