Campus & Community
Neighbors helping neighbors through the United Way
Fritz Diddle sees the impact the United Way has every day in his work at On Point for College—it's in the success of hundreds of young people in the community.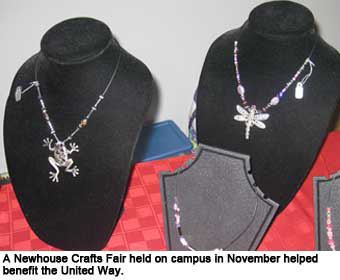 On Point for College offers guidance and support services to inner-city youth to help them access higher education and empower them to succeed. "The United Way helps fund our main program, College Access and Success, that allows us to reach out to the young people in our community centers around the city," says Diddle, development associate at On Point. "We help them fill out college and financial aid applications, provide transportation from home to college, offer mentoring and provide support to any sort of non-academic problems they might run into—from college application to graduation."
These may be basic logistics, but they can be barriers to a successful college career for many of these young people. "About one-third of these students have no parent in their lives, and we end up being the support system. They are remarkably successful despite the challenges in their lives," Diddle says.
On Point students are 10 percent more likely to return to college for their sophomore year as compared to the national average, and they earn degrees at rates higher than the national average. On Point also provides a United Way-funded program that helps with workforce preparation.
On Point for College's programs are just two of 95 programs at 35 local agencies that are changing lives with the help of the United Way of Central New York—and the community members who are its foundation.
"This is a very local initiative. This is neighbors helping neighbors," says Rebecca Bostwick, assistant vice chair of community impact for the United Way of Central New York board of directors. "Any help that individuals give of their time or in funds helps strengthen the work that we can do together."
Along with many businesses and organizations that support the United Way, Syracuse University has its own campus United Way committee that oversees the University's effort through the distribution of pledge cards to employees and shows the benefits of contributing. Last year, the campaign at the University raised a record-setting $227,000.
The campaign, which runs through the end of December, is also supported by fund-raising events organized by various departments on campus, including a recent craft fair at the Newhouse School of Public Communications and a tag sale in Sims Hall organized by the Falk College of Sport and Human Dynamics.
"The United Way is organized for the express purpose of uplifting and caring for all members of our community. As a strong presence in Central New York, Syracuse University plays a key role in the United Way's ability to accomplish that mission," says Dean of Libraries and University Librarian Suzanne Thorin, who chairs the University's United Way committee. "It has been heartwarming for me to work with staff from across the University who really care about making difference and are willing to spend their time and resources in support of this important cause."
Donors can contribute in two ways. "Each donor has the choice to either give to the general fund, supporting many agencies locally, or to give to a nonprofit that is very personal to them by writing in a designation," says Peg Northrup, assistant director in SU's Office of Special Events and the University's campaign co-coordinator. "That's what makes the United Way campaign so unique."
The United Way of Central New York's general fund, the Community Program Fund, focuses on four areas: education, income, health and safety net. Agencies submit proposals for funding of specific programs, and the United Way works with the agencies to see a broader picture of what the needs are in the community. The United Way's community impact cabinet distributes, oversees and monitors the funds, which are disbursed in a three-year funding cycle.
"We have a thoughtful, strategic process as to how these funds are distributed through our network of agencies," says Bostwick, who is also program director for the Lerner Center for Public Health Promotion at the Maxwell School of Citizenship and Public Affairs. "The funds are dedicated solely to what Onondaga County needs most and right now that is helping individuals and families become stable and healthy. We're helping people get jobs; we're helping young people get ready for college; and we're helping provide a safety net for those who are the most vulnerable—children, the elderly, those with disabilities and those who are in crisis."
Those areas are addressed in many ways by another United Way-funded agency, Catholic Charities of Onondaga County. The organization serves about 27,000 people a year, ranging from infants to senior citizens, says Executive Director Michael F. Melara.
"The United Way is a crucial source of funding that enables us to provide services to all those populations with the greatest needs—right now we have 14 different United Way-funded programs," he says. The funding also helps to leverage matching funds from state and federal resources.
"Today, we'll provide shelter services to nearly 170 men, women and children through our two homeless shelters that are funded by the United Way; we'll serve 80 families in our food pantry; we'll work with more than 120 preschoolers who are living in distressed areas of the city; and we'll visit 100 seniors who are frail and elderly and need assistance with everyday living," Melara says.
Other programs include providing school-age children with a safe place in after-school neighborhood programs and working with families in the child welfare system.
Melara recognizes the community's support that helps make these programs possible. "There's a generous spirit among people in our community—they really care about folks who are struggling," he says.
Another important component is that donors want to see their gift making a difference. "We have to constantly prove that the funding we get from the United Way has an impact on community problems," Melara says. "That makes us stronger as an organization, and hopefully creates confidence and trust for the donors who give to the United Way."
How to donate
University employees can make a donation to the United Way by sending in their pledge cards or visiting the e-pledge website that was sent out by email. Pledge cards can also be obtained from Kate Hammer in the Office of Government and Community Relations at 443-3919 or kehammer@syr.edu, or from Peg Northrup in the Office of Special Events at 443-5303 or manorthr@syr.edu.
Upcoming fund-raisers
An Auction Extravaganza will be held Friday, Dec. 7, from 10 a.m.-3 p.m. at the Peter Graham Scholarly Commons, Bird Library. The event will include art, white elephant, theme basket/clever container and silent auctions.
Tickets are available for "A Day Full of Syracuse with a Night on the Town!," a gift bag with a nearly $600 value. The bag includes gift cards to the Landmark Theater, the Milton J. Rubenstein Museum of Science and Technology, Urban Outfitters, Mr. Shop, Dinosaur Bar-B-Que, Everson Museum of Art, Alto Cinco and L'Adour. The donation is $5 and tickets can be picked up at the Department of Biology Undergraduate Office, 114 Life Sciences Complex, or by e-mailing swhallah@syr.edu. The drawing is on Monday, Dec. 10.