Campus & Community
Getting to Know: New Student Association President Allie Curtis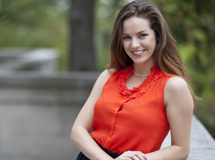 Student Association Vice President Allie Curtis, a junior public relations and political science dual major, was announced the winner of the 57th session SA presidential race on Nov. 16.
Curtis joined the SA her first semester on campus, and says that since then, running for president has always been a goal of hers. "I just felt very passionately about SA and what SA can do for the students," Curtis says. "I definitely had it in the back of my mind that running for president would be something I would do one day."
Curtis says that somewhere between managing current president Dylan Lustig's campaign and becoming vice president, it became clear that she would run for president her junior year.
Curtis will assume her her role on Jan. 1, 2013, and plans to continue initiatives started under the 56th administration, including the Readership Program, which enables the New York Times to be offered in every residence hall on campus for free. But Curtis also has some new ideas she wants to bring to SA.
One initiative Curtis is passionate about involves working with faculty and administration to change current University policies for receiving academic credit and meeting requirements for summer internships. Curtis said it is difficult for students who do not have the appropriate faculty advisors to have internship requirements waived. She wants to establish an initiative that eliminates these roadblocks. Curtis says her passion for this initiative stems from personal experience and those of other students receiving internships that faculty could not approve.
Curtis also has goals specifically for the Student Association. "I would really want to see us reach 100 percent as an organization," she says, and particularly would like SA to bridge the gap between SU and SUNY-ESF. Full representation was attained under the 55th administration and reaching those numbers again is a goal, she says.
The idea of Curtis managing Lustig's campaign was a conversation that stemmed from a venting session over bubble tea freshman year, she remembers. Having been frustrated by leadership in SA at the time, Curtis says she and Lustig decided to step forward and run to make a difference.
Now president of the 57th session, Curtis says, "It's still crazy to look back on all of that, and think 'wow, I've done all this, and this is where I am now.'"
Emily Pompelia is a work-study student in the Office of News Services.