Arts & Culture
Getting to know: Glassblower Sally Prasch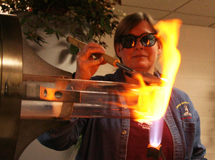 The shelves, drawers, nooks and crannies of Sally Prasch's laboratory in the basement of the Center for Science and Technology are packed with a myriad of glass items—round and square rods, tubes, connectors, valves, stopcocks, ampules and more—from the minuscule to the very large.
To the casual observer, the glass pieces seem unyielding, yet Prasch will bend, twist, shape and fuse the material in seemingly impossible ways. She creates customized scientific glassware for researchers in the Department of Chemistry in SU's College of Arts and Sciences and sometimes for others across campus. Her creations are used in experiments that require highly specialized apparatuses that are not readily available from commercial suppliers.
"When I develop an apparatus for an experiment, I work with the scientists to understand the experiment and what they want the glass to do," Prasch says. She recalls one project that required revisions and redesigns over a period of nearly four years to get the apparatus to the point where it worked efficiently for the experiment. "Our first designs would implode 20 seconds into the experiment," she says. "We finally got the apparatus to last two months without imploding."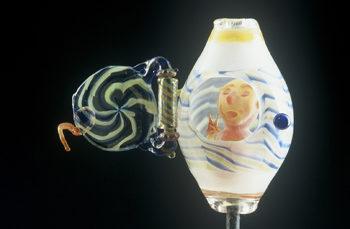 In the world of scientific glassblowing, Prasch is a member of a shrinking fraternity, according to a 2006 article in Chemical and Engineering News. Many train at Salem Community College in New Jersey, the only school in the country that grants degrees in scientific glass technology. Prasch holds both a certificate in scientific glass technology and an associate's degree in applied science from the school.
What sets Prasch apart from her scientific glassblowing counterparts is the way in which she fuses science and art in her professional life. She holds a bachelor's of fine arts in glass and ceramics from the University of Kansas and is internationally renowned for her artistic glass, which she creates in a private studio near Springfield, Mass. Her exquisite sculptures have been exhibited in galleries and museums across the United States and internationally. Additionally, her work is featured in a number of books and magazine articles, including "The Penland Book of Glass: Master Classes in Flamework Technique" (Lark Books, 2009) and "500 Glass Objects: A Celebration of Functional and Sculptural Glass" (Lark Books, 2006).
"I don't see a big difference between artists and scientists," Prasch says. "Both are reaching for the unknown. They need to open and expand their minds in order to achieve their desired results. I couldn't do my artwork without my scientific skills, nor could I do my scientific work without my artistic skills."
Prasch is passionate about teaching both the scientific and artistic sides of her craft. Her specialty is flameworking and her tools of choice are hand-held gas torches of varying sizes. She also uses a glassblower's lathe, which can hold glass items that are too large to be held by hand. Prasch has taught flameworking at SU; the University of Massachusetts, Amherst; and the University of Michigan, Dearborn. She is frequently invited to teach master's-level workshops at some of the most exclusive artisan schools and studios across the country and around the world, including the Niijima Glass School in Japan; Snow Farm in Williamsburg, Mass.; Pilchuck Glass School, Washington; and the Penland School of Crafts in North Carolina.
Prasch has been an invited guest at Penland's acclaimed Retreat for Teaching Artists, and will teach there again next spring. She has traveled to Japan to teach master's-level workshops in Tokyo and Kobe, and to Ireland to teach at the famed Essence of Mulranny, known as an artist's paradise.
There's a story behind almost every piece of glass Prasch creates, whether she is creating an apparatus for a scientist or a sculpture. Each piece emerges as a visible expression of her emotions, thoughts and experiences. "I think we are all artists and need to express ourselves," she says.
Prasch created "Bouncing Goblets" in honor of her parents' 50th wedding anniversary. The stems are made of flexible glass coils, similar to the coils she creates for condensers in the chemistry labs. She says the goblets will bounce off the table if one is not careful. "I figured my parents had to be pretty flexible to be married that long," she says.
"Open for Peace," which was created after 9/11, is an inch-high sculpture with a hinged door that opens to reveal a tiny person flashing the peace sign. "Baby" is a bubble made from uranium glass and filled with xenon gas. It was created in celebration of friends who were expecting a baby. "My Father's Face, My Face" emerged after her father's death. "I am my father's daughter," Prasch says. "He lives through me and the people who were in his life."