Arts & Culture
Four artists question time, space in 'Transitive Flux' at XL Projects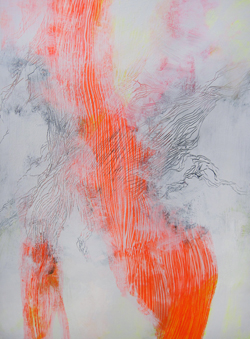 XL Projects, part of the College of Visual and Performing Arts (VPA), presents the exhibition "Transitive Flux," a conversation about the location of thoughts and objects on the transitional plane. The four-person exhibition is the work of Rebecca Aloisio, Michael Giannattasio, Sarah Camille Wilson and Davana Wilkins. Each artist's work is a visual negotiation of physical and psychological spaces. Through diverse media and practices, the artists question time, space and the nature of human interaction with objects.
Free and open to the public, the exhibition will be on view through Jan. 27, with a reception on Thursday, Jan. 17, from 6-8 p.m. XL Projects is located at 307-313 S. Clinton St., Syracuse.
Wilkins and Aloisio are second-year M.F.A. candidates at VPA; Wilson is a third-year M.F.A. candidate. Giannattasio received his M.F.A. from VPA in 2012. "Transitive Flux" arose from exchanges about the shared concerns in their studio practices.
The theme of the transitive and an underlying connection to the human body are present in the work of each artist. Drawing, clay, electronics and large-scale sculpture form the language with which they express ineffable moments in space and time. The exhibition addresses these issues through complex visual and physical systems that resonate with consciousness.
XL Projects' regular gallery hours are Wednesday-Sunday, noon-6 p.m. For more information and holiday hours, contact Andrew Havenhand at ahavenhand@yahoo.com. XL Projects may be contacted at 315-442-2542 during regular gallery hours.