Arts & Culture
Design students to propose ways to reuse former Tupper Lake factory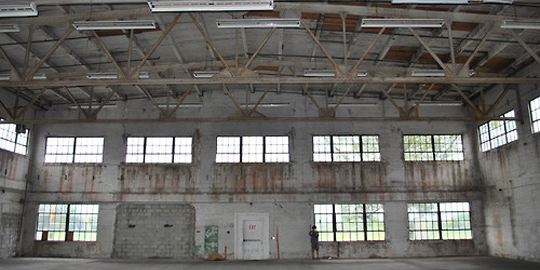 This semester the industrial and interaction design (IID) program in the College of Visual and Performing Arts' Department of Design challenged its fourth-year students to envision a creative new use for the former Oval Wood Dish (OWD) factory in Tupper Lake, N.Y. On Friday, Dec. 7, five student teams will present their results to a jury of professionals in an attempt to win the grand prize in the program's annual 360° IID Competition, which encourages comprehensive research, analysis and visionary problem-solving.
The presentations will be held at 6 p.m. in The Warehouse Auditorium, located on the first floor of The Warehouse, 350 W. Fayette St., Syracuse. A reception and the announcement of the grand prize-winning team will follow. The event is free and open to the public.
The winning team will receive the Philip H. Stevens Award, which is named in honor of Stevens '51, an industrial designer and president of Philip Stevens Associates Ltd. in Skaneateles, N.Y., who made a gift of $100,000 to the program with his wife, Margueritte.
For this year's 360° IID Competition, Stevens suggested to Don Carr, professor of IID, that the students generate ideas to reactivate an idle factory. Carr, who owns a camp in Long Lake, N.Y., in the Adirondack Mountains, immediately thought of the former OWD factory in nearby Tupper Lake. Throughout the semester, the students conducted thorough design research—including site visits—to create ideas that would put the former factory and Tupper Lake on a path to a sustainable future.
"In our design classes, we often discuss the idea of 'sustainable product development' or sustainable enterprise," says Carr. "As designers of goods and services, whatever you create in this world comes with a carbon, economic and social footprint. Knowing how passionate people are about the Adirondacks, my feeling has been that if we can generate some viable ideas for Tupper Lake, this could serve as a great teaching moment."
The students formed five design groups—all named after local wildlife—and each team was assigned two industry advisors, the majority of whom are IID alumni. Throughout the semester, each team blogged about their ideas and progress for the approximately 100,000 square-foot factory:
Otter Design
Loon Design
Trout Design
Humming Bird Design
Tupper Lake Bear
The teams will also present their ideas to the Tupper Lake Revitalization Committee and the local community on Wednesday, Dec. 12, at 6 p.m. at the Wild Center in Tupper Lake.
"In a parallel IID class taught by Kathleen Brandt, these same students are developing their design research skills," notes Carr. "For the teams to take the initiative to travel to Tupper Lake at various times throughout the semester to gain an understanding of the people and their needs was wonderful. Therefore, when we present at the Wild Center, I hope the people of Tupper Lake see that their ideas were integrated."
Judging the 360° IID Competition are Stevens; Greg Smiley, industrial design manager at the Raymond Corp.; Elet Callahan, professor of law and public policy at SU's Martin J. Whitman School of Management; Scott Ryan, president of Brownlie Design; James Sonneborn, attorney at Bousquet Holstein PLLC; and Marcie Sonneborn '76, G'77, G'89, small business innovation research (SBIR) specialist at the Central New York Technology Development Organization.
Team advisors include IID alumni John Lonczak '77, phi-d product/brand development; Jim Rudolph '06, Farm Design Inc.; Erik Kreider '11, fuseproject; Leigh Cohen '10, IDEO; Tor Alden '86 and Mike Herda '96, HS Design Inc.; Eric Beyer, '79, Copesetic Inc.; Bruce Leonard '75, Kodak; Miya Teraki '06, JDK Design; and Adam Carr '02, Bose. Landscape architect Meaghan Pierce-Delaney also served as an advisor.