Arts & Culture
Young artists to exhibit work in 'The Big Show' Nov. 10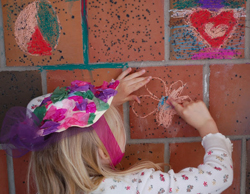 Student work from Art Workshops for Young People, an offering of the art education dual program in the College of Visual and Performing Arts and School of Education, will be exhibited in "The Big Show" on Saturday, Nov. 10, from 10 a.m.-noon in the Art Education Gallery, rooms 045 and 051, of Comstock Art Facility, 1055 Comstock Ave.
The semester-long Art Workshops for Young People are taught by undergraduate and graduate art education students. Nine workshops in two different time sessions are offered each semester for children ages 5–14. "The Big Show" is the culminating exhibition. Patrons have the opportunity to view work in a variety of media and meet the student teachers, instructors and program staff.
For more information about the exhibition or the workshops, contact Patti Gavigan at 315-443-2355 or pagaviga@syr.edu.