Business & Economy
Whitman School's MBA program ranked #55 by Bloomberg Businessweek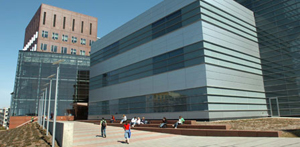 The Martin J. Whitman School of Management at Syracuse University earned the #55 spot in Bloomberg Businessweek's biennial ranking of top MBA programs. The ranking, now in its 24th year, includes 81 schools globally.
"We're very pleased that Bloomberg Businessweek has ranked Whitman as one of the top MBA programs in the country," says Whitman School Dean Melvin Stith. "I am proud to note that this recognition is due to the tireless commitment and dedication of the entire Whitman community. I am confident that our ongoing efforts to improve will continue to move this momentum forward."
"We are thrilled to be ranked by Businessweek, but not entirely surprised. We work hard to create and maintain a relevant and challenging curriculum, and foster a learning environment that produces well-prepared, well-rounded business leaders," says Don Harter, Whitman's associate dean for master's programs. "We're very happy to be recognized in this way."
Bloomberg also recently ranked Whitman's MBA program #1 for the most global student body in the U.S. Earlier this year, US News &World Report ranked Whitman's MBA program as one of the nation's lowest-priced private university MBA programs, at #9 out of more than 400 schools surveyed. Overall, US News ranks Whitman #16 in entrepreneurship, #25 in supply chain management, and the MBA program #68 nationally.
The top 30 U.S. schools and top 10 international programs are highlighted in the Nov. 19-25 print issue of Bloomberg Businessweek, and the complete ranking of full-time MBA programs is featured on Businessweek.com at www.businessweek.com/articles/2012-11-15/the-complete-2012-business-schools-ranking.
The Bloomberg Businessweek ranking is based on three elements: a survey of newly minted MBAs, a poll of corporate recruiters and an evaluation of faculty research output. The MBA survey, which measures satisfaction with all aspects of the b-school experience, is combined with two previous MBA surveys. The corporate poll, which asks recruiters to identify the schools that produce the best graduates, is also combined with two previous recruiter surveys. Finally, Bloomberg Businessweek tallies the number of articles published by each school's faculty in 20 top journals and reviews of their books in three national publications. The total for faculty size is then adjusted and an intellectual-capital rating is assigned for each school. The MBA surveys and the recruiter polls each contribute 45 percent to the final ranking, with the intellectual-capital ranking contributing the final 10 percent.
Whitman's MBA program incorporates both the theoretical background and practical experience students need to succeed in today's ever-changing global economy. The program's experiential learning component encourages students to apply classroom learning to business problems, connect with decision makers, and deliver tangible results that add value to sponsoring organizations. Students build an experiential portfolio through internships, consulting, specialized courses, community engagement and other practical experiences that make them more valuable in the marketplace. The Class of 2012's mean base salary was $72,119.