Business & Economy
Whitman hires Goodroe as assistant director of graduate recruitment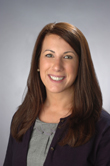 Danielle Goodroe has been named assistant director of graduate recruitment at the Martin J. Whitman School of Management at Syracuse University. She will support the enrollment management of the Whitman graduate programs. Primary responsibilities will include supporting the recruitment of students, representing Whitman programs throughout the U.S., and providing support for graduate students during their academic careers.
Prior to joining SU, Goodroe was the development officer at Utica College, where she focused on securing leadership-level gifts and working on the senior class campaign. Prior to development, she worked in undergraduate admissions at Utica College as an assistant director. Her focus was on recruiting in New England and enhancing social media platforms, among other duties. Her career began at the College of Saint Rose in the graduate admissions office, where she assisted in developing CRM databases and communicating with prospective students.
A native of Rome, N.Y., Goodroe holds a B.A. degree in public relations from SUNY Oswego.