Media, Law & Policy
Three to be honored Nov. 9 with Eggers Distinguished Alumni Award
Distinguished alumni William "Bill" F. Allyn G'59, Janet "Penny" Jones Allyn '60 and Shirley Ann Fenner Reidenbaugh '54 will be honored with the Melvin A. Eggers Senior Alumni Award during the annual Melvin A. Eggers Senior Alumni Award Dinner, held Friday, Nov. 9, from 5-8 p.m. at Drumlins Country Club, 800 Nottingham Rd.
Established in 1988 by former Syracuse University Chancellor William Pearson Tolley in honor of then-Chancellor Melvin A. Eggers, the award recognizes senior alumni for their loyalty and service to the University.
The dinner is one of the highlights of this year's Orange Central celebration. For reservations or more information, contact the Office of Alumni Relations at 315-443-3258 or e-mail orangecentral@syr.edu.
William "Bill" F. Allyn G'59 and Janet "Penny" Jones Allyn '60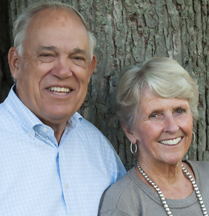 Bill and Penny Allyn have spent the majority of their lives in Central New York. Today, although residents of Naples, Fla., they spend their summer months in Skaneateles. The Allyns have been married for 52 years and have four sons and 11 grandchildren.
Bill, grandson of Welch Allyn co-founder William Noah Allyn, became president and CEO of his family's business in 1980.  He led the company through incredible growth during the 1980s and 1990s, making it not only a competitive company, but also a successful company in the global economy. Today, Welch Allyn sells and services its products across the globe, and employs more than 2,750 people, with half of them based in Skaneateles.
Bill Allyn is a graduate of Dartmouth College and earned his M.B.A. at SU. He is a life member of the SU Board of Trustees and served on the boards of National Grid, Century Group, Oneida Bank, M&T Bank, Syracuse Research Corp. (SRC), Community General Hospital, Dartmouth College Thayer School of Engineering, Business Council of New York (chairman), MACNY (chairman), Allyn Foundation and Emerson Foundation. One of his fondest memories is of coaching Skaneateles boys' youth hockey for 19 years, and winning three New York State championships. Today, Bill serves on the board of Naples Community Hospital, and is a trustee of Naples Community Church.
Penny Allyn is an alumna of SU's School of Education. She spent 13 years coaching high school girls' tennis in Skaneateles; 30 years teaching Sunday School at the Skaneateles First Presbyterian Church; 13 years serving on the Skaneateles Town Board; and taught physical education, both full-time and part-time, from 1960-95. In addition, Penny served on the boards of The American Red Cross, Central New York Community Foundation, WCNY and the Allyn Foundation. In Naples, Penny serves on the board of Habitat for Humanity and is captain of the USTA at Royal Poinciana Club.
The Allyns have displayed dedication to SU through their time, talent and treasure. They support SU through various financial campaigns. Blue Highway LLC was formed between Welch Allyn, SU and New York State. Welch Allyn offers internships to SU students, and the Allyn Foundation has helped to fund The Warehouse and the IDEAS Collaborative at SU.
Shirley Ann Fenner Reidenbaugh '54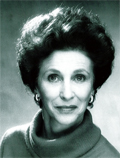 Reidenbaugh received a bachelor's degree from the School of Speech and Dramatic Arts (now the College of Visual and Performing Arts) in 1954. She is an alumna of the Boar's Head Dramatic Society and a member of the Gamma Phi Beta Alumni Board.
While a student at SU, she played lead roles in several productions, including "Lysistrata," "My Heart Don't Say So," "Antigone," the title role of "Gigi," and was in the crew of the Class of 1953 musical "White Bucks and Tales." She worked in summer production company productions of plays such as "Claudia" (again in the title role) and "Our Town." She has performed off-Broadway and was a member of the resident company of Famous Artists Country Playhouse. Returning to her alma mater for both the 2003 and 2004 class reunions, she appeared in the 50th anniversary productions of their class musicals—"White Bucks and Tales Revisited" (2003) and "Up in Lights Again" (2004).
She served as assistant director of the Theatre Ensemble of North Carolina and toured with them across the South. Since returning to Syracuse, she has remained an active member of the theatrical community. While living in North Carolina, Reidenbaugh established and ran SRO, "Seniors Reaching Out," a theater group for seniors that entertained residents of senior-related facilities and hospitals. She has now started a similar group in Syracuse housed at the Jewish Community Center in DeWitt.
In 2004, Reidenbaugh volunteered to work for the SU Archives on the Boar's Head Dramatic Society Collection in preparation for the organization's 100th anniversary. Boar's Head was the performing and production arm of the Drama Department from 1904-72.
That began a collaboration and friendship between Reidenbaugh and the SU Archives that continues to this day, says SU Archivist Edward L. Galvin. Reidenbaugh helped the Archives establish a website for Boar's Head, and contacted colleagues in the theater world to secure donations that enabled the digitization of more than 200 playbills from Boar's Head productions. She continued to raise funds for the Archives to further expand the website.
"Shirley kept coming up with ideas on how to enhance the site so that the website now contains a complete list of productions; playbills and photographs of summer stock and regional theaters such as Oneida Castle Playhouse, Rome Civic Theatre, Civic Company and the New Playhouse; and dozens of photographs of visitors of note," says Galvin. "One of her proudest achievements is the Boar's Head Memory Book, wherein members can record their thoughts and read how others fondly remember Boar's Head. To date, over 40 members have added their personal recollections."
The Boar's Head memory book is available online at archives.syr.edu/collections/boars_head/memories.html.
Reidenbaugh received an award from Zeta Phi Eta, the national professional fraternity for communication arts and sciences, in 1989 and a Dean's Award from VPA in 2004.