Campus & Community
Suggest a speaker for Commencement 2014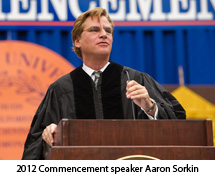 Calling all students, faculty, staff and alumni! Who would you like to hear speak at SU's 2014 Commencement?
The University has just opened up the process for suggesting a speaker for 2014 Commencement. While it may seem early to begin such a process, the timing allows for input from the entire SU community, including students, faculty, staff and alumni. Suggestions may be made through the website suspeaker.syr.edu. The suggestion site will remain open until mid-March 2013.
All names submitted through the website are compiled in an alphabetical, unranked list and sent to the official speaker selection committee, which is comprised of senior class marshals, student marshals from each of the University's schools and colleges, and student representatives to the University's Board of Trustees.
Stephanie Kranz, 2013 senior class marshal, says the University does a "fantastic job" by allowing the student body to give as much input as possible into the speaker selection process.
"The commencement speaker doesn't necessarily have to have a notable name, but more importantly, a memorable message to give us in May," Kranz says. "I look for a Commencement speaker that avoids clichés and finds a connection with the audience they are addressing. I want a speaker that has a speech that I re-watch on YouTube time and time again, and not one where the day I hear their speech is enough."
Once the all-student committee reviews the list of suggested names and conducts a thoughtful deliberation process, the committee presents a final, unranked list of proposed speakers to Chancellor Cantor. The Chancellor reviews the list and makes a final choice on the basis of relevance to the SU community, availability and reasonableness of cost.
For full speaker criteria, visit the suggestion entry form at suspeaker.syr.edu.
The 2014 Commencement speaker will join a long list of distinguished past speakers who have visited SU. An announcement on the 2013 Commencement speaker is expected in the spring.