Arts & Culture
SU Women's Choir to present fall concert 'Women as Peace Makers, Women as Healers' Nov. 15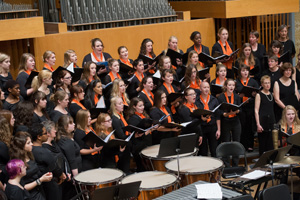 The Syracuse University Women's Choir, under the direction of Barbara M. Tagg, instructor of music in the Rose, Jules R. and Stanford S. Setnor School of Music in the College of Visual and Performing Arts, will present its fall concert, "Women as Peace Makers, Women as Healers," on Thursday, Nov. 15, at 8 p.m. in the Setnor Auditorium, Crouse College.
The concert is free and open to the public. Free and accessible parking is available in the Q-1 lot; additional parking is available in the Irving Garage. Campus parking availability is subject to change; call 315-443-2191 for current information.
Following the semester-long theme of peace and reconciliation, the concert will include Mark Sirett's "Shanti" ("Peace"), David Brunner's "Earthsongs" featuring oboist Philomena Duffy, and "Amani" ("A Song for Peace"). The second part of the concert will be dedicated to those affected by Hurricane Sandy and will include Jocelyn Hagen's "Joy" featuring violinist Matteo Longhi, Kala Pierson's "The Turning Earth" conducted by Gregg Smith Conducting Scholar Lauren Estes, and Joan Szymko's "Vivos Voco" featuring the Park Central Presbyterian Church Handbell Choir.
The SU Women's Choir includes students who are both music majors from the Setnor School of Music, as well as students from a variety of other majors and schools across campus. This concert is the second event of the 2012-2013 Women's Choir season honoring 125 years of "Women in Song" at SU.
For more information, contact Tagg at 315-443-5750 or btagg@syr.edu.