Arts & Culture
Student-faculty projects draw international spotlight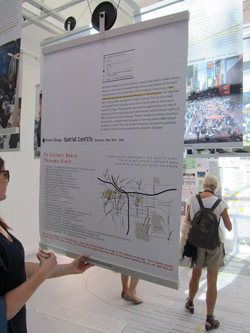 When architecture professor Anda French looks at downtown Syracuse, she sees more than a city; she sees a studio for creating spontaneous stories and generating interactive conversations.
The "conversations" prompted by French's three-part urban installation series "Spatial ConTXTs" are now resonating with audiences worldwide as part of the Venice Biennale's 13th International Architecture Exhibition in Venice, Italy. Joining French's work at the exhibition—which runs through Nov. 25—is another SU-generated work, "Storefront: Syracuse," created by former SU architecture graduate students Stephen Klimek G'12 and Nilus Klingel G'12.
The installations—selected from about 500 submissions—are featured in the Biennale's U.S. Pavilion, built around the theme "Spontaneous Interventions: Design Actions for the Common Good." The idea, French says, was to redirect the focus this year away from individual architects and buildings and instead showcase the relationship between architects and their environment. "They wanted to see projects that didn't have huge budgets and didn't have large client backing," French says. "They wanted projects in which the architect-as-citizen finds an issue in the city and then starts trying to address it without necessarily being hired to do so."
"Spatial ConTXTs," which received funding through Imagining America, encompasses three parts, two of which featured the work of students in French's spring 2010 and spring 2011 "Spatial ConTXTs" class. Over the course of those semesters, the students worked with city officials and local schoolchildren to create street installations inviting the public to "text" their responses to two open-ended questions—"What if … Syracuse?" and "What do you want to be?" The questions were designed to probe people's dreams and aspirations for their city and for themselves, and the three-week installations were set up at strategic pedestrian crossroads in downtown Syracuse. The answers, later screened for the public in a multimedia video presentation, proved both thoughtful and personal, French says. "They were really very earnest. Some were funny, but in a whimsical way. We didn't get the facetious, sarcastic answers that one might think we would get. I was amazed and pleased by that."
The third piece, titled "Sibylline TXT: Syracuse," was a project that French had begun prior to the student works and served as the inspiration for those class installations. In that work, French engaged the public in interactive storytelling by dispersing, via text message, 60 narrative threads of original fiction over 30 days to various local arts and cultural venues.
For their "Storefront: Syracuse" project, Klimek and Klingel refurbished abandoned Syracuse storefronts and converted them into a temporary hub for programming and public engagement—with the long-term goal of attracting permanent tenants for the reclaimed spaces. Klimek says they drew their inspiration from the various revitalization initiatives transforming the Near West Side. "We saw the many vacant storefronts across downtown Syracuse as an opportunity for a 'spontaneous intervention' that would use architecture and design to engage students, faculty, staff and community members," Klimek says. That the project was selected for the Biennale reflects "an emerging paradigm shift in the architectural discipline toward public-interest design."
French, who visited the Biennale earlier this fall, agrees, noting that the "Spontaneous Interventions" theme also affirms SU's institutional commitment to scholarship that addresses community needs. "I've always been interested in working on projects that engage the community," she says. "The Scholarship in Action mantra meant one thing before I came here, and once I was embedded in the school, it really made all the difference for a project like this. The fact that Imagining America was here and supported it, and that faculty grants supported it—that's a huge part of why it's been successful."