Arts & Culture
Paperback writers (and hardcover ones too): SU's creative writing program turns 50
Editor's Note: The following excerpt is from a forthcoming article in the journal Stone Canoe. A longer version is available here.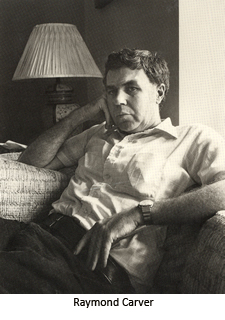 Raymond Carver said that the secret of good writing wasn't talent—there's plenty of that around, he added—but a person's ability to put his signature on everything he does.
"A writer who has some special way of looking at things and who gives artistic expression to that way of looking: that writer may be around for a time," he said.
Surely this ethos was alive and well in the early 1980s, when Carver taught in the creative writing program in Syracuse University's College of Arts and Sciences. Since then, his commitment to capturing the world "according to one's specifications" has become an inspiration to poets and authors everywhere.
It's no secret that SU's creative writing program is one of the nation's best. Nary a year goes by in which some faculty member doesn't bring home a major award or honor, such as a Guggenheim, MacArthur "genius" Grant or National Book Award nomination. Further validation comes from Poets & Writers magazine, which ranks SU's program the fifth best in the country. Michael Goode, chair of SU's English department, says the distinction confirms what everybody in the field already knows—"our M.F.A. program is among the best out there."
Ever since Margaret Habrect G'65 was the first student to enroll in the program 50 years ago, the creative writing program has been launching the careers of authors, poets, scholars and teachers. Every year, hundreds of applicants from around the world—approximately 500 fiction writers and 150 poets–vie for a mere dozen openings. Part of the allure is the faculty, which is front-loaded with talent. Mary Karr, George Saunders G'88, Dana Spiotta and Bruce Smith are just some of the professors one might bump into in the Hall of Languages or Tolley Humanities Building.
If proof of a successful creative writing program is turning out one notable writer per decade (a metric often used by the Writer's Workshop at the University of Iowa), SU is well ahead of the pack. A snapshot of former students and alumni might include M.T. Anderson G'98; Stephen Dunn G'70; Phil LaMarche G'03; Jay McInerney G'86; Claire Messud (who attended in 1989-90); Iain Pollock G'07; Tom Perrotta G'88; and Cheryl Strayed G'02, who is currently enjoying celebrity with her memoir "Wild: From Lost to Found on the Pacific Crest Trail" (Knopf, 2012).
The creative writing program unofficially began in 1891 at the Delta Upsilon house, where Stephen Crane penned fiction in his upstairs bedroom. He wasn't much of a student, completing only one course in a single year at two different colleges, but his desire to report on what couldn't be taught in the classroom made him a gritty author. Crane's coming-out party was the 1895 novella "The Red Badge of Courage," which did wonders for his career and the area's reputation. Years later, other notable writers, including Lillian Hellman, Toni Morrison and David Foster Wallace, would find their way to the Salt City.
As SU's program gained traction, so did its students. Novelists Mary Gordon G'73 and McInerney succeeded by dint of hard work and helped usher the program into a kind of golden age. At the center of it all were Carver and Tobias Wolff, soon to become some of the best fiction writers of their generation.
Born and raised in the Pacific Northwest, Carver achieved critical success in 1976 with the short-story collection, "Will You Please Be Quiet, Please?" (McGraw-Hill). Other volumes followed, many of which drew on his experiences as the child of a small-town sawmill operator. Carver quickly amassed a large following, as well as his share of imitators, before dying of lung cancer at the age of 50.
Wolff also hailed from the Pacific Northwest, but as a writer and teacher, he was considerably different. A member of the U.S. Army's Special Forces in Vietnam, Wolff has channeled many of his wartime experiences into sharply etched stories and longer works, including his novel "The Barracks Thief"(Ecco, 1984) and his memoir "In Pharaoh's Army: Memories of the Lost War" (Vintage, 1995). His collection of short stories includes "In the Garden of the North American Martyrs" (Ecco, 1981).
"Carver treated his work like a living thing, and was not bound to it. He'd nurse it along," says McInerney. "Toby was more methodical, and viewed writing like a watch, which could be taken apart and reconstructed. He was also very objective with his teaching."
Despite recent changes in the field (e.g., the proliferation of e-publishing, low-residency programs and online courses), SU has remained loyal to fostering creativity and strong writing skills. "What hasn't changed is the fact that becoming a good fiction writer requires years of dedication, learning and growth," says Deborah Treisman, fiction editor of The New Yorker, which has published pieces by various SU writers. "The best thing a writing class can do is save the writer some time—both by requiring him or her to produce a lot of work in a short amount of time and by forcing him or her to experiment and actively develop his or her voice."
Perhaps Carver was on to something when he said that the writer gets the final word, in so far as the word is ever final. His death may have cut short a career, but it certainly didn't diminish his legacy—and the impact he has had on the possibilities of creative writing.
"That's all we have, finally, the words," Carver prophetically said before his death, "and they had better be the right ones."