Arts & Culture
New group exhibition at XL Projects explores notion of the habitual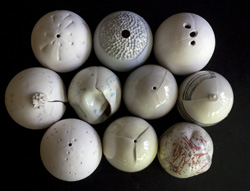 "Habitual," a new exhibition at XL Projects, part of Syracuse University's College of Visual and Performing Arts (VPA), features work by a group of artists who explore the very notion of the habitual. The exhibition, which is free and open to the public, will run through Dec. 2 with a reception on Thursday, Nov. 15, from 6-8 p.m. XL Projects is located at 307-313 S. Clinton St., Syracuse.
"Habitual" includes work by City Meditation Crew and VPA students Emily Dunlap, Lily Fein, Nicholas Krapf, Cayla Lockwood, Joel Weissman and Jian Zhong.
Artists' statement:
"However overt or latent, we are faced with constructing, continuing or terminating habits every day. Within the liminal space between compulsion and regiment, awareness of our practices becomes vague. As habits become repetitive and repetition becomes habit, we find ourselves in a cyclical relationship. So often this relationship is externalized and projected onto the places, objects and thoughts that construct our lived environment. As our desires erupt into actions, they become mitigated experiences between our needs and the objects meant to satisfy them. Actions become the affect and creators of our recurrent behaviors, helping to define our modes of existence. Showing how we each respond to our individual practice, our habits and repetitions will be seen in a multitude of ways."
XL Projects gallery hours are Wednesday-Sunday, noon-6 p.m. The gallery will be closed for Thanksgiving Break Nov. 21-25. For more information, contact Andrew Havenhand at ahavenhand@yahoo.com. XL Projects may be contacted at 315-442-2542 during gallery hours.