Arts & Culture
New exhibition showcases VPA's graduate program in museum studies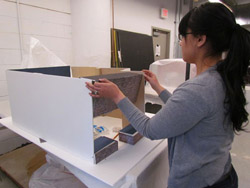 Museum studies students in the College of Visual and Performing Arts will give the public an opportunity to learn more about the graduate museum studies program in the new exhibition "Museum Studies: What We Do," Nov. 14-Dec. 12 on the fourth floor of The Warehouse, 350 W. Fayette St., Syracuse. The exhibition is free and open to the public.
"Museum Studies: What We Do" features past projects, including those from "Hidden in Plain Site: Urban Sculpture and the Work of the Syracuse Public Artist in Residence," the spring 2012 exhibition researched, organized, designed and installed by first-year graduate museum studies students; and "Raw Revelations: The Reunion of Hand Tools and Production," an exhibition created, constructed and presented earlier this fall through the collaborative efforts of the museum studies "Practicum" class. "What We Do" will also include information about the program's courses, alumni, internships and faculty.
The exhibition is open daily during regular Warehouse building hours, 9 a.m.-7 p.m. The exhibition will be closed Nov. 17-25 for Thanksgiving Break.
For more information, contact Bradley Hudson, exhibition facilitator, at bjhudson@syr.edu. To learn more about the museum studies program, visit vpa.syr.edu/art-design/design/graduate/museum-studies.