Arts & Culture
National Book Critics Circle Award winner B.H. Fairchild speaks at Syracuse Symposium Nov. 14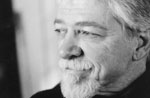 Syracuse Symposium continues its fall theme of "Memory-Media-Archive" with a special reading by poet B. H. Fairchild. Winner of the prestigious National Book Critics Circle (NBCC) Award, Fairchild will speak at the Downtown Syracuse YMCA (340 Montgomery St.) on Wednesday, Nov. 14, at 7 p.m. The event is free and open to the public, but seating is limited. For more information, call 315-443-7192 or visit syracusehumanities.org. 
Fairchild's reading is sponsored by the Downtown Writer's Center (DWC) of the Arts Branch of the YMCA of Greater Syracuse and by the SU Humanities Center, which organizes and presents Syracuse Symposium for The College of Arts and Sciences and campus community.
"We are proud to partner with the Downtown Writer's Center to present B.H. Fairchild, known for his moving portrayals of working-class Midwestern communities," says Gregg Lambert, Dean's Professor of the Humanities and founding director of the SU Humanities Center. "His poems provide powerful insight into an America that is often overlooked in our modern storytelling."
Phil Memmer, DWC founder and executive director of the Y Arts Branch, agrees: "Whether it captures a single fleeting moment or a generation's Zeitgeist, Fairchild's work preserves how it feels to be human."
Fairchild is the author of six volumes of poetry, including "Early Occult Memory Systems of the Lower Midwest" (W.W. Norton & Co., 2002), winner of the NBCC Award, the California Book Award and the Rebekah Johnson Bobbitt National Prize for Poetry; and "The Art of the Lathe" (Alice James Books, 1997), winner of the Beatrice Hawley Award and a finalist for the National Book Award. Fairchild also won Pushcart prizes in 2009 and 2012.
The son of a lathe operator, Fairchild has written extensively about the desolate beauty of his native Kansas and Texas. Much of his work lies at the intersection of physical labor and memory, as explained in an interview with Boston College professor Paul Mariani: "Very often, especially in my later teens and early 20s, I was existing in both worlds at the same time, watching a welder lay down a perfect seam while 'Madame Bovary' was walking around in my head, or observing the gleam of a freshly shaped and honed piece of stock while remembering the arc of a Brancusi sculpture."
Fairchild, whose American aesthetic has been compared to William Carlos Williams', James Wright's and James Dickey's, is a professor of English at the University of North Texas.