Campus & Community
NAACP Chairman Roslyn Brock to keynote 2013 Martin Luther King Jr. celebration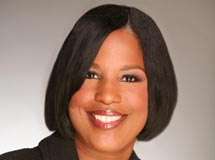 Roslyn M. Brock, chairman of the national board of directors for the National Association for the Advancement of Colored People (NAACP), will be the keynote speaker for Syracuse University's 28th annual Martin Luther King Jr. Celebration, "Yesterday's Dream, Tomorrow's Promise," on Saturday, Jan. 19, 2013, in the Carrier Dome.
The annual celebration is among the largest university-sponsored events in the United States to commemorate King.
"It's been an honor to work on a committee with individuals who share my passion for the ideals in which Martin Luther King Jr stood for," says Michelle Singletary, chair of the 2013 Martin Luther King Jr. Celebration Committee. "Dr. King said, 'Life's most persistent and urgent question is, What are you doing for others?' Roslyn Brock epitomizes that attitude by being involved with the NAACP for over 25 years. Roslyn Brock and Dr. King both had a passion to ignite/reignite social activism for our local communities and across the world. Dr. King will always be a part of our history and the changes he made to the social culture of the United States changed not only his generation but all future generations."
The evening program, which will include the presentation of the 2013 Unsung Hero Awards and entertainment, begins at 5:30 p.m. and is free and open to the public. Communication Access Realtime Translation (CART) will be provided. Other accommodations can be requested; please call Elizabeth Cronk at Hendricks Chapel at eacronk@syr.edu by Jan. 11.
Tickets for the dinner, which precedes the program at 4 p.m., are $25 for the general public and $15 for students without meal plans. Students with meal plans will be charged for one dinner. Tickets will be available on Monday, Dec. 3. For ticket information, call Hendricks Chapel at 315-443-5044. Information on the celebration can be found at hendricks.syr.edu.
The 2013 Martin Luther King Jr. Unsung Heroes Awards will be presented to Adena Rochelson, an eighth grader at Wellwood Middle School in Fayetteville (youth/teen); JoVan Collins of Syracuse (community adult);  Brenda Muhammad, a graduate student at Syracuse University (SU/ESF student); and Engineers Without Borders at Syracuse University (student group).
A community festival celebrating arts, culture and education in the Syracuse community will be held on Saturday, Jan. 26, from noon-4 p.m. at Frazer Elementary School, 741 Park St.
Brock made history in February 2010 when she became the youngest ever and fourth woman to serve as chair of the national board of directors of the NAACP. Over the past 25 years, Brock has served the NAACP in several leadership roles. She is a Diamond Life Member of NAACP and joined the association as a freshman at Virginia Union University, where she was elected president of the Youth and College Division from the Commonwealth of Virginia. One year later, she was elected as a youth board member from Region 7 – representing the District of Columbia, Md., and the Commonwealth of Virginia.
During her tenure as a youth board member and vice chairman of the NAACP Board Health Committee, Brock led the policy debate to recognize access to quality health care as a civil rights issue that resulted in the National Board's ratification and inclusion of a health committee as a standing committee in its constitution.
In 1989, under the leadership of the Rev. Benjamin Lawson Hooks, Brock wrote her master's thesis on "Developing a NAACP Health Outreach Program for Minorities." She has secured more than $2.7 million in grants since 1991 for NAACP programs that initiated the health symposiums held annually at NAACP National Conventions and was responsible for the publication of more than 200,000 copies of "HIV/AIDS and You" educational materials distributed to NAACP units.
In 2005, Brock created the Leadership 500 Summit with several other young adult members of the NAACP  to recruit, train and retain a new generation of civil rights leaders aged 30-50 to the NAACP. She is a member of the board of trustees for the Catholic Health Association of the United States of America and the NAACP Special Contributions Fund Board of Trustees. She's served on the boards of community mental health; family and children's services; senior services and faith-based community ministries. She's also a member of several professional and civic organizations, including the American Public Health Association, American College of Health Services Executives, American Hospital Association's Disparities in Healthcare Task group, Association of Healthcare Philanthropy, Alpha Kappa Alpha Sorority, Inc., and The LINKS, Inc.
A recipient of numerous healthcare, community service and leadership awards, Brock's leadership skills have been recognized by several national publications and organizations. In April 2008, Brock participated in the United States Department of Defense's 75th Joint Civilian Orientation Conference, reserved for American leaders interested in expanding their knowledge of the military and national defense. She was a guest lecturer on "Alleviating Global Poverty" in Rome, Italy," at the 2007 Martin Luther King, Jr. Conflict Resolution Conference.  From 2003-05, Brock served as a Young Leaders Fellow for the National Committee on U.S.-China Relations to build cross-cultural understanding and professional networks with young Chinese leaders while exploring substantive issues and developing enduring friendships.
Other honors Brock has received include the Martin Luther King, Jr., Medal for Human Rights; the Outstanding Alumna Award from Virginia Union University; Ebony magazine's Future Leader Award; and being named as one of Good Housekeeping's 100 Young Women of Promise.
Brock is vice president, advocacy and government relations, for Bon Secours Health System, Inc., in Marriottsville, Md. She previously worked for 10 years in health programs at the W. K. Kellogg Foundation in Battle Creek, Mich.
She graduated magna cum laude from Virginia Union University, earned a master's degree in health services administration from George Washington University, an  M.B.A. from the Kellogg School of Management at Northwestern University and a master of divinity degree from the Samuel DeWitt Proctor Theology at Virginia Union University.