Health & Society
Marion Nestle will talk on food politics in Nov. 13 University Lectures presentation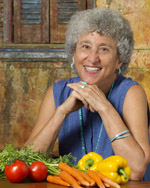 Obesity is one of the most pressing social health issues of our generation, and Marion Nestle's research examines the scientific, economic and social influences on food choice, with an emphasis on food marketing.
Nestle, the Paulette Goddard Professor of Nutrition and Public Health at New York University, will speak on "Food Politics from Farm to Table: A Recipe for Change" in the next University Lectures presentation on Tuesday, Nov. 13, at 7:30 p.m. in Hendricks Chapel.
The lecture is free and open to the public; reduced-rate parking is available in the Irving Garage. American Sign Language interpretation and CART will be available.
Nestle's lecture is sponsored in cooperation with the Department of Public Health, Food Studies and Nutrition in the David B. Falk College of Sport and Human Dynamics.
She will also be the keynote speaker the YWCA of Syracuse & Onondaga County's Spirit of American Women breakfast on Wednesday, Nov. 14.
Nestle is a consumer activist, nutritionist, award-winning author and academic. Her books explore issues such as the effects of food production on food safety, our environment, access to food and nutrition, and the politics of food and dietary choice.
She is the author of "Food Politics: How the Food Industry Influences Nutrition and Health" (2002) and "What to Eat" (2006), which was named as one of Amazon.com's top 10 books of 2006 (Health, Mind, and Body). Her current book project, "Why Calories Count: from Science to Politics," was published in March.  Nestle was senior nutrition policy advisor in the Department of Health and Human Services. She writes the "Food Matters" column for the San Francisco Chronicle and blogs daily at www.foodpolitics.com.
The Office of University Lectures welcomes suggestions for future speakers. To recommend a speaker, or to obtain additional information about the University Lectures series, contact Esther Gray in the Office of Academic Affairs at 443-2941 or eegray@syr.edu.  on Facebook at www.facebook.com/home.php#!/universitylectures.
Scheduled lectures in spring 2013 semester include ocean rower, adventurer and environmental campaigner Roz Savage (Feb. 27); Conor Grennan, founder of Next Generation Nepal (March 5); National Geographic photographer Jim Richardson (March 19); and Tony Award-winning playwright and screenwriter David Henry Hwang (April 4).