Health & Society
Many projects around campus are educating students on food issues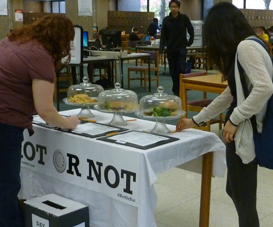 What does a sustainable food system look like? Students in many disciplines across the Syracuse University campus are working on educating the University community about such issues as hunger, food justice, local food sources and nutrition.
The following projects are being developed in conjunction with SU Showcase and the Nov. 13 University Lecture on "Food Politics" by Marion Nestle.
Students from all disciplines are invited to register for a one-credit food action workshop, "What's On Your Plate?" Participants will attend Nestle's lecture and a subsequent panel discussion, and develop action projects related to local food issues. More information is available at sustainability.syr.edu/?page_id=974.
A team of students in Professor Rick Welsh's "Food and Society" class in the David B. Falk College of Sport and Human Dynamics is tracking their food consumption and evaluating its environmental and health impact.
Students in Professor Jolynn Parker's Honors "Food Stories" class have developed projects to engage the community on topics of food production, hunger and nutrition:
"A Capella Against Hunger" is a concert benefiting the Food Bank of Central New York on Saturday, Dec. 1, at 7:30 pm in Hendricks Chapel. (Tickets will be on sale at the Schine Student Center Box Office for $4 for students, $6 for staff and the public, and at the door for $6 on the evening of the concert.)
"Rot or Not?," a display in Bird Library that tracks the source, production and shelf life of three meals (one from McDonald's, one from the dining hall and one prepared from ingredients at the Regional Market). All are invited to visit the display and take a short survey about local and organic foods.
Other groups are developing an on-line cookbook emphasizing local, seasonal foods for off-campus students and educating the community about the use of hormones and antibiotics in food production.
Newhouse student Evan Dinger is producing a video about Professor Evan Weissman's "Farm to Fork" course, in which students visit farms and local grocers and prepare meals with local produce.
The Sustainable Community Film Series will present "Food Inc." on Thursday, Nov. 15, at 6:15 p.m. in the Hendricks Chapel Noble Room. A discussion led by Professor Tom Perreault of the Maxwell School and Professor Rick Welsh of the Falk College will follow.
 SU Food Services offered a local foods meal in the dining halls on Nov. 8.
 For more information, visit showcase.syr.edu.