Living history: campaigns and campus
The Syracuse University campus community has never shied away from participation in civic life. Here are some examples, in word and image, of our campus ties to political campaigns and personalities over the years.
Presented chronologically, source material is primarily drawn from the rich resource that is SU Archives and Records Management Department, preserving our history and bringing it to light for researchers, the University community and the public.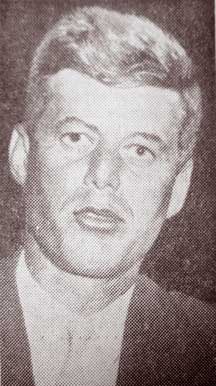 John F. Kennedy, U.S. Senator from Massachusetts at the time, delivered the main address at SU's 103rd Commencement June 3, 1957, and received an honorary doctor of laws degree. The Herald-Journal reported Kennedy Will Attend SU Commencement.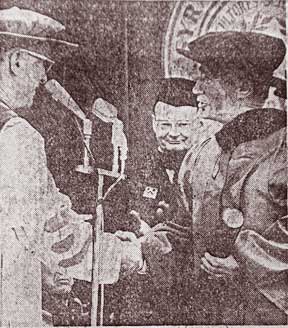 Adlai E. Stevenson, twice a Democratic candidate for president of the United States, received an honorary doctor of laws degree from SU during the 109th Commencement on June 2, 1963. Stevenson was one of two Commencement speakers that year, an unusual circumstance for the University. His passing in July 1965 was noted locally by the Post-Standard: Adlai No Stranger, Visited CNY Often.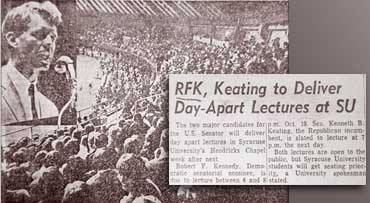 Robert F. Kennedy, as a candidate for U.S. Senator from New York, campaigned on campus in Oct. 1964. Several city newspapers reported on his visit. From the Post-Standard, just before his visit: RFK, Keating to Deliver Day-Apart Lectures at SU and after, from the Herald-Journal, Kennedy Speaks in Manley Field House.
Successful in his senatorial bid, RFK returned to campus in March 1965. Area newspapers reported Kennedy Pays a Visit to Syracuse University; Soldiers Burn a Village in South Viet Nam.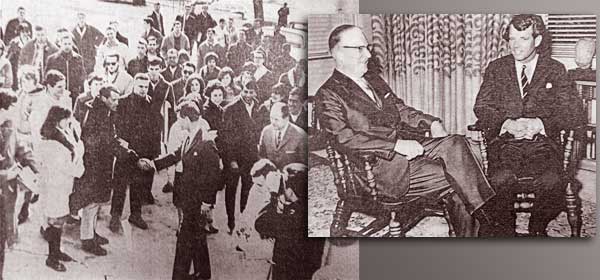 During that same visit, the Post-Standard caught RFK in a meeting with Chancellor Tolley, discussing the role of the federal government in higher education.
On another visit to SU in Nov. 1966, RFK stumped for a state constitutional convention. From the Post-Standard: Kennedy Speaks at SU; Constitutional Reform Urged. Students gathered at Hendricks Chapel to listen. A portion of the senator's speech is also shown below.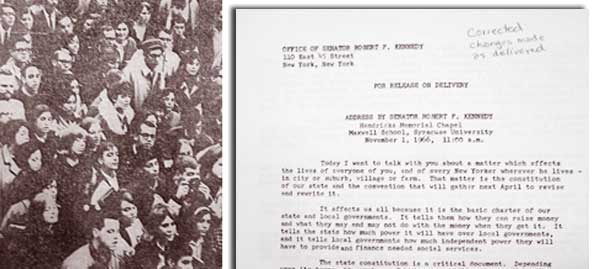 With RFK on the 1968 campaign trail for the U.S. presidency, the Daily Orange reported Kennedy Hears Students on Bus Ride.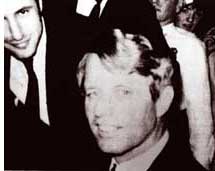 Students presented RFK with a petition signed by SU supporters of his candidacy, just two months short of his assassination in Los Angeles.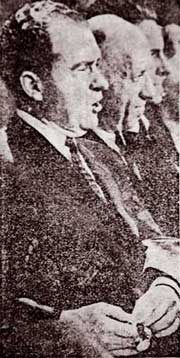 Richard M. Nixon visited Syracuse during his first presidential campaign in Oct. 1968, where he was greeted by a politically active student body. Local and national media took note. More than a thousand SU students marched to the War Memorial Building, with the intentions of singing protest songs during Nixon's speech.
Once inside, the students sang "The Sounds of Silence." Nixon sang along. As the Washington Daily News and other national papers reported Nixon Joins Dissidents.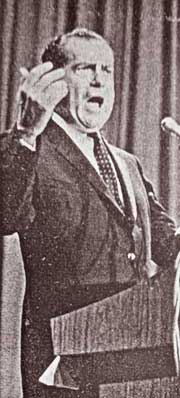 The Daily Orange reported Oct. 30 on the candidate's visit, from its unique student perspective, Nixon answers SU students, predicts 3-5 million vote win. After the protest by the student dissidents, Nixon continued with his speech, discussing, first, his support for a treaty of the non-proliferation of nuclear arms.
Nixon continued speaking, moving to additional issues, including his support for Social Security, seeking peace in Vietnam with multilateral support and other foreign and military policies. The seeds of the Silent Majority were being sown. Nixon would, in the next several years, use this concept to promote his policies. Arguing against vocal dissidents, he and his advocates would cite broad but largely unspoken support from a broad swath of the American population.
So concludes our SU campus campaign history tour. Finally, "for dessert," here is a sampling of political paraphernalia gathered from the Archives' various collections.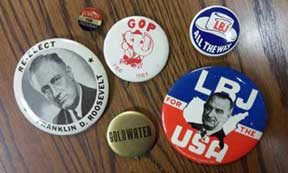 In the group: an undated "GOP for Me" button; one for FDR, circa 1936; a 1960 JFK pin; and, from the 1964 presidential campaign, a Goldwater button and two for LBJ.