Campus & Community
Homecoming Court Selection Committee announces 2012 Homecoming Court
The Homecoming Court Selection Committee has announced the 2012 Syracuse University Homecoming Court. This longstanding tradition is just one of many student events, programs and activities that take place during SU's annual Homecoming event, Orange Central.
Voting for this year's king and queen began at 8 a.m. on Monday, and closes at noon on Friday, Nov. 9. The winners will be announced on Friday at the Homecoming Pep Rally in Hendricks Chapel. To vote, visit http://homecomingcourt.syr.edu; anyone with an active SU Net ID can vote.
Members of the full court are seniors Whitney Clinkscales, Stephanie Kranz, Chelsea Marion, Lauren Meadors, Chloe Slade, Kevin Belbey, Rodney Fleming, Lawrence Jackson, Harris Maidenbaum and Andre Sadler.
Tomorrow will feature candidates for 2012 Homecoming King.
Candidates for Queen:
Whitney Clinkscales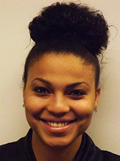 Major: Public Relations
Hometown: Portsmouth, Va.
Bio: I believe that understanding humility has allowed me to excel academically and as a leader. It is my duty as a black woman to devote my life to public service, as so many did before me. Being this year's Homecoming Queen will give me the opportunity to be a symbol of hope for a better tomorrow, by sharing my heart and encouraging others to do the same.
Quote: "When the heart meets the mind, they birth zeal, and with enough zeal, one can do anything."
Stephanie Kranz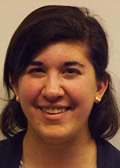 Majors: Mathematics and Policy Studies
Hometown: Buffalo
Bio: It's 4 a.m. in Syracuse, what are you doing? Sleeping, I hope! I'm probably riding on an ambulance to a medical emergency somewhere on campus. My days don't end there though, whether it's with Habitat for Humanity, the Jazz Ensemble or the Orientation Leaders; you'll always find me bringing a smile to the faces of the people around me.
Quote: "Does the idea of me being queen sound a-PEEL-ing? Then you OTTO vote for me!"
Chelsea Marion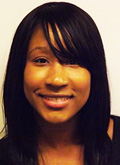 Major: Communications and Rhetorical Studies
Hometown: Philadelphia, Pa.
Bio: Knowing my time in Syracuse is limited I've made it my goal to be a productive member of both the campus and city communities. Whether it's volunteering to motivate young students in the Syracuse City School District or through my internship promoting our very own varsity athletic teams, it is my mission to enrich our communities while spreading Orange pride.
Quote: "Orange is and always will be a piece of my identity."
Lauren Meadors


Majors: Economics and International Relations
Hometown: Norman, Okla.
Bio: From University 100 to Tri Delta to the Honors Program and study abroad, I have spent my years at Syracuse representing many facets of the University. I have grown to believe in the strength of Orange tradition and the ties that bring us together for this celebration, and I look forward to representing our student body as Homecoming Queen!
Quote: "Syracuse isn't just four years, it's for life."
Chloe Slade


Major: Communications and Rhetorical Studies
Hometown: Goodrich, Mich.
Bio: I am a CRS major focusing on the music industry. I love being involved and making people smile. I'm a tour guide, on University Union's Concert Board, a recolonizing member of Alpha Gamma Delta and I work at the Westcott Theater. I would be honored to be the 2012 Homecoming Queen and make everyone's SU experience shine brighter through positivity!
Quote: "Character defines true beauty. Keep smiling, shine bright and stay beautiful."