Campus & Community
'Holidays at Hendricks' heralds holiday season on Dec. 2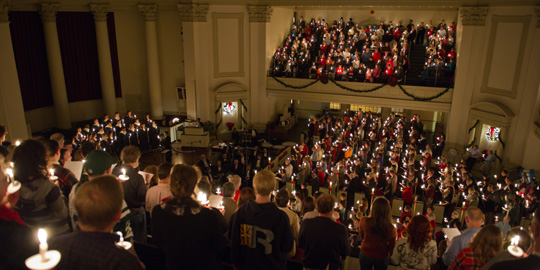 "Holidays at Hendricks," the annual Syracuse University holiday concert featuring the Hendricks Chapel Choir, Syracuse University Brass Ensemble, Hendricks Chapel Handbell Ringers and Syracuse University Organist Kola Owolabi, will be held on Sunday, Dec. 2, in Hendricks Chapel.
The concert will begin in the chapel at 7:30 p.m. and is free and open to the public. Those attending are asked to bring a nonperishable food item; items collected will be donated to those in need in the greater Syracuse community. Monetary donations will also be accepted to help offset student costs for the Hendricks Chapel Choir's tour of Germany and Poland in the spring.
Public parking is free and available on a first-come, first-served basis in the Quad 1 lot (accessible via Crouse Drive), the Quad 3 lot (accessible via Sims Drive, with entrance between Bowne Hall and Carnegie Library), Q4 lot (accessible via College Place), Waverly lot (accessible via Crouse Avenue) and in the Irving Garage.
Through a unique collaboration between SU and WCNY, the 90-minute concert will again be broadcast in late December by WCNY on both television and radio.
Broadcast times on television will be Tuesday, Dec. 18, at 9:30 p.m.; Sunday, Dec. 23, at 4 p.m. on 24.4 (HD) and 6:30 p.m.' and Tuesday, Dec. 25 (Christmas Day), at 10 p.m.
Broadcast times on radio will be Monday, Dec. 24 (Christmas Eve), at 6 p.m. and Tuesday, Dec. 25 (Christmas Day), at 8 a.m.
The concert will also be broadcast on WPBS in Watertown on Dec. 23 at 2:30 p.m. and on WSKB in Binghamton at a time to be determined.
WCNY-TV is found on Channel 24 or Time Warner Channel 11, digital cable channels 850 and 853 and simulcast in SD 24.1 and HD 24.4. WCNY-FM (CLASSIC-FM) is found at 91.3 in Syracuse, 89.5 in Utica and 90.9 in Watertown.
During the concert, the three groups will perform both individually and in combination. They will be joined by Anna Petersen Stearns on oboe, Bill DiCosimo on piano, Willie Santiago on flute and Bruce Paulsen from WCNY-FM on voice. The Chapel Choir will be directed by John Warren, the SU Brass Ensemble by James Spencer and the handbell ringers by Emily B. Cirillo.
The groups will combine to perform "Sussex Carol" and "O Holy Night." Community sing-alongs will feature "Let It Snow!" and "Winter Wonderland."
The Hendricks Chapel Choir will perform "Hodie Christus Natus Est," "In the Bleak Midwinter," "Herrscher des Himmels," "Ale Brider," "Matko Najśwętsza" (performed in Polish), "The Christmas Song" and "Glory, Glory, Glory to the Newborn King."
The Brass Ensemble will perform "Infant Holy," "Fire in the Blood," "How the Grinch Stole Christmas" and "The Most Wonderful Time of the Year."
The Handbell Ringers will perform "Hark, the Herald Angels Sing," "Ukrainian Bell Carol" and "Sleigh Ride."
Owolabi will perform "Noel X: Grand Jeu et Duo."
Stearns and Owolabi will perform "Concerto in Bb Major, Op. 7, No. 3."
The concert will close with the traditional candle lighting and singing of "Silent Night."
The Hendricks Chapel Choir is a select, voice-mixed choir of about 40 students that provides music for the Sunday morning interdenominational Protestant service at SU, as well as for various campus events. The choir presents annual holiday and spring concerts, and tours internationally every four years.
The Brass Ensemble, part of SU's College of Arts and Sciences, is composed of members of the SU faculty, staff and students, the SUNY Upstate Medical University faculty and staff, and accomplished musicians from surrounding communities. The national award-winning Brass Ensemble presents about 18 performances per year. The ensemble's repertoire includes music from all major musical periods and often features new compositions commissioned by nationally known composers.
The Hendricks Chapel Handbell Ringers ensemble is a group of students, faculty and staff from the SU community. The ensemble rings five octaves of Schulmerich handbells and four octaves of Schulmerich MelodyChimes. The Handbell Ringers perform at the Protestant worship services in the chapel throughout the academic year, as well as at other churches and venues throughout Central New York.
DVDs of the 2011 Holidays at Hendricks performance are available in the SU Bookstore.
For more information on the concert, contact Hendricks Chapel at 443-2901.