Arts & Culture
Grammy-winning country music artist is next in Raymond Carver Reading Series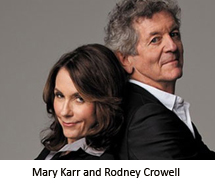 Grammy-winning singer-songwriter Rodney Crowell will present the next installment of the Fall 2012 Raymond Carver Reading Series Wednesday, Nov. 28, at 5:30 p.m. in Gifford Auditorium. The reading will be preceded by a question-and-answer session from 3:45-4:30 p.m.
The event is free and open to the public. Parking is available in SU's paid lots.
Crowell's latest album, "Kin: Songs by Mary Karr & Rodney Crowell," features lyrics based on Crowell's and Karr's experiences growing up in Texas during the 1950s, and includes guest appearances by award-winning country music artists. Karr is a critically acclaimed, bestselling memoirist and professor of creative writing in SU's College of Arts and Sciences.
Crowell's memoir, "Chinaberry Sidewalks" (Knopf, 2011) was released in paperback in March 2012. Writing for the Atlantic Constitution, Gina Webb described the book as "a loving, affectionate tribute … Crowell's parents remain his heroes not in spite of their flaws, but because of them, and because of their son's proud refusal to sugarcoat the truth. Instead, this honest, forgiving and self-assured memoir brings all the skeletons out of the closet and invites them to dance."
Crowell has released nearly 20 albums across four decades. His critically acclaimed "Diamonds & Dirt" produced five consecutive number-one singles, including "After All This Time," which won the 1989 Grammy for Best Country Song. His follow-up album, "Keys to the Highway," produced two top five hits. Crowell has written songs for such leading performers as Crystal Gayle, Emmylou Harris, Waylon Jennings and Rosanne Cash. In addition to the Grammy, Crowell received an ASCAP (American Society of Composers, Authors and Publishers) lifetime achievement award and, in 2003, was inducted into the Nashville Songwriters Hall of Fame.
The series will continue Dec. 5 with Adam Levin, award-winning author of "The Instructions" (McSweeney's, 2010), who teaches creative writing at the School of the Art Institute in Chicago.