Veterans
Getting to Know: Miguel Sapp '82, G'88, L'89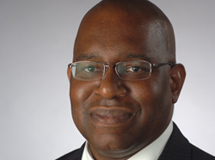 After a military and diplomatic career that has taken him around the world—including to Afghanistan as the United States' senior civilian representative—Miguel Sapp '82, G'88, L'89 has come home to Syracuse University.
Sapp joined the Office of Program Development this past summer as executive director of development and alumni relations. In that role, he cultivates and solicits donors to the University, oversees the Our Time Has Come Scholarship Fund and manages services and programs for African American and Latino alumni. This year, Sapp will serve as master of ceremonies for SU's Veterans Day Ceremony on Monday, Nov. 12 in Hendricks Chapel.
For Sapp, service to the greater community—be it the campus, national or global community—is a natural fit. "I came from the Camelot generation, 'Ask not what your country can do for you, but what you can do for your country.' I took that to heart," he says.
Sapp earned a bachelor of arts' degree in political science and speech communication, a master of public administration from the Maxwell School of Citizenship and Public Affairs and a juris doctorate from the College of Law, degrees that prepared him well for his successful military and civilian careers.
He spent 28 years of active and reserve duty in the U.S. Army, retiring as a lieutenant colonel. He served in the U.S. Army Reserve and commanded three different units to include the 450th Civil Affairs Battalion (Airborne). His military obligations included back-to-back tours in support of Operation Sea Signal and Operation Uphold Democracy in Guantanamo, Cuba, and Haiti, respectively. Given his experience with the U.S. Commission on Civil Rights, he was tapped by the Army to serve on a Department of the Army Task Force on racism, extremism and sexism in the reserve components.
Most recently, Lt. Col. Sapp served two tours in Iraq and received the Bronze Star, the Combat Action Badge and the Valorous Unit Award, the Defense Meritorious Service Medal and the Iraqi Campaign Medal with three campaign stars.
After his retirement from the military, Sapp joined the U.S. Department of State and held positions at the U.S. embassies in Cairo, Egypt and Kabul, Afghanistan. His most recent assignment was as senior civilian representative for Embassy Kabul, where he coordinated the overall civilian reconstruction efforts in two provinces of Afghanistan—a task that was challenging and dangerous. Even in those tough conditions, Sapp always kept his mission at the forefront.
"It is a great privilege to represent your country in another country," Sapp says of being a diplomat. "You realize the impact you can have."
In November 2011, Sapp accompanied Mohammad Iqbal Azizi, Afghan governor of Laghman Province, on a 10-day trip to Washington, D.C., and Syracuse to meet with key stakeholders in U.S. foreign policy agencies and federal, state and local government and academic communities. Azizi met with SU leaders, faculty members and students during his visit. "The meetings were very beneficial for both Governor Azizi and SU," Sapp says.
Sapp encourages today's students to get a good liberal arts education that includes a knowledge and appreciation of other cultures. Flexibility and adaptability are a must.
"The most important part of my education was developing the ability to learn and be adaptable," Sapp says. "I have had a lot of different jobs, and adaptability by far is the most important quality you can have."
Sapp himself is well prepared for his new role at SU, as he has been engaged in service to the University community for many years. He has served on SU's National Alumni Board, where he engaged in fundraising efforts, the Law School Alumni Association and the Maxwell Alumni Association.
He is glad to be back at his alma mater, enjoying a closer view of SU sports, walking across the Quad and reconnecting with members of the SU community. And when asked what else is great about being back in Syracuse, Sapp doesn't hesitate. "Varsity," he says.