Congratulations to VP and SU alum Joe Biden!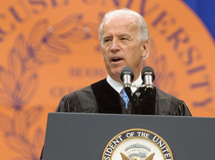 It's a common refrain from election night, the cry of "Four more years!" And while voters returned Barack Obama to the White House for another term as president, they also voted to return for another four years one of Syracuse University's highest officeholders.
Vice President Joe Biden received his juris doctorate from the Syracuse University College of Law in 1968. The Biden legacy at SU continued two decades later, when son Joseph also attended the College of Law.
Biden is no stranger to Syracuse. He's returned to the Hill to speak at commencement ceremonies in 2006 and 2009. He also returned to campus to hold a task force hearing on middle-class families ( http://biden.syr.edu/) in September of that same year. Most recently he was in Syracuse to attend the funeral of a close family friend in March 2012.
During the 2009 Commencement address he delivered in the Carrier Dome, Biden fondly recalled his days at Syracuse. "Frank Sinatra," Biden said, "One of the few things I remember he ever said—not what he sang—he said, 'Orange is the happiest color.' He must have been thinking about Syracuse and today when he said it.
"It's good to be home. And this field, which used to be called Archbold Stadium when I was here—this is the place from which I graduated—the same ground. This field was the scene of two of the happiest moments of my life, most exciting moments of my life.
"The first was when I sat in the end zone and watched a man who has become a close personal friend of mine, number 44, Floyd Little, outscore Gale Sayers in a shootout where they scored a total of eight touchdowns together. You can see my value system.
"And the second was the day that I stood here—in those days, the law school used to graduate with the undergraduate school—and I sat here in this field to receive my law degree, at some moments an unexpected event. And let me just say congratulations to all my fellow recipients of honorary degrees today. You all deserve.
"It's great to be back at Syracuse. It's an honor to have been invited. It's an honor to hold a degree from this institution. And it's an honor to look at the next generation of Syracuse grads," he said.
Along with receiving his law degree from Syracuse, the vice president also worked with the University (along with 10 others) in creating a standardized form helping students and parents better understand student loans and financial aid.