Media, Law & Policy
'Food, Inc.' documentary screening to be held Nov. 15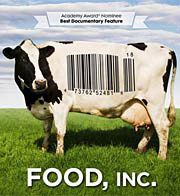 How much do we really know about the food we buy at local supermarkets? Take a peek under the veil of our nation's highly mechanized food industry in the final movie of the SUstainable CommuNitY Film Series.
The Academy Award nominee for best documentary feature film, "Food, Inc.," will be shown on Thursday, Nov. 15, at 6:15 p.m. in the Noble Room of Hendricks Chapel. A simple supper will be provided to start the event. Admission is free and open to students, faculty and staff.
After the film, Thomas Perrault, associate professor of geography in the Maxwell School, and J. Richard Welsh, professor of food studies in the David B. Falk College of Sport and Human Dynamics, will facilitate a conversation around the movie's sustainability implications.
"Food, Inc." reveals shocking facts about food production and consumption in the United States. The documentary exposes the food industry's highly mechanized underbelly that's been hidden from the American consumer and controlled by a handful of corporations.
Profit is often put ahead of consumer health, the livelihood of the American farmer, the safety of workers and our own environment. The system is highly productive, and Americans are spending less on food than ever before, but at what cost?
The SUstainable CommuNitY Film Series, which started in September featuring documentaries that address different sustainability challenges, will conclude with this fifth film. The series is sponsored by the SU Sustainability Division and the Lutheran Campus Ministry/STEP Center at Hendricks Chapel. For more information, contact Rick Martin at 315-443-3953 or rjmart01@syr.edu.