Election Class tweets follow election night in real time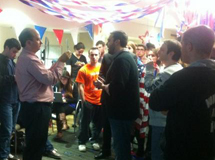 It's as if Twitter were made for nights like this.
The real-time drama of election night returns was conveyed, 140 characters at a time, by a record number of Americans. In fact, when it became clear President Obama won re-election, his first comments were not made in front of TV microphones or to a newsprint reporter. "Four more years," Obama tweeted, along with a photo of himself hugging his wife, Michelle.
The post received 500,000 retweets by Wednesday morning. Some of those retweets, and many more that were election related, came from the Smartphones of Anthony Rotolo's students. Rotolo, who serves as assistant professor of practice and social media strategist at the School of Information Studies, challenges his students to tweet through election night, and their posts contained humor, drama and in some cases relief as an Obama victory became clear.
You can see some of the tweets, along with the most famous photo on Twitter, by checking out the Storify timeline below.