Copenhagen's Ensemble Nordlys to give U.S. premiere of Waggoner's 'Summer' Nov. 11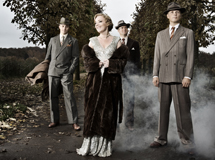 Copenhagen-based Ensemble Nordlys (the Northern Lights Ensemble) will present a concert on Sunday, Nov. 11, at 8 p.m. in the Rose and Jules R. Setnor Auditorium, Crouse College. The concert, which is free and open to the public, is sponsored by the Rose, Jules R. and Stanford S. Setnor School of Music in the College of Visual and Performing Arts and the Central New York Humanities Corridor.
On the program will be the U.S. premiere of Setnor faculty member Andrew Waggoner's "Summer," commissioned by Ensemble Nordlys and premiered by them in Copenhagen in August; Danish composer Per Nørgard's "Out of the Cradle Endlessly Rocking"; the Fantasy Pieces of Robert Schumann; the Piano Trio in D minor of Felix Mendelssohn; and a chamber version of the double concerto for violin and oboe of J.S. Bach, performed here on violin and clarinet.
Ensemble Nordlys was founded in 1997 and has since toured in more than 20 countries throughout Europe, Asia and the U.S., including such cities as New York (Carnegie Hall), London, Berlin, Warsaw (Autumn Festival), Athens and Jerusalem. In its native Denmark, the group performs regularly at the Danish Radio Concert Hall, the Music House in Århus and at such festivals as the Schubertiade in Roskilde, Sorø International Music Festival and Copenhagen Summer Festival.
Since 2006 Ensemble Nordlys has presented a concert series in Ny Carlsberg Glyptotek in Copenhagen, from which the Danish Radio has broadcast several events. During the 200th anniversary of Hans Christian Andersen in 2005, the group was designated as the official H.C. Andersen Ensemble. It has also represented Denmark at the International EU Music Festival in Warsaw.
Ensemble Nordlys is comprised of Viktor Wennesz, clarinet; Christine Pryn, violin; Øystein Sonstad, cello; and Kristoffer Hyldig, piano. Learn more at http://www.ensemblenordlys.dk.
Free and accessible parking for the concert is available in the Q1 lot. Additional parking is available in the Irving Garage. Campus parking availability is subject to change; call 315-443-2191 for current parking information or for more information about the concert.