Community Folk Art Center hosts genocide awareness workshops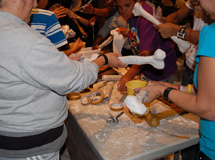 Community Folk Art Center (CFAC) will host two genocide awareness workshops on the Syracuse University campus, in collaboration with Students Rebuild, Syracuse University Arts Engage and the Congolese community. The workshops are part of the One Million Bones campaign, a social arts initiative that brings awareness to genocide by educating and engaging communities.
On Friday, Nov. 9, at 4:30 p.m. CFAC is hosting a workshop in 219 Sims Hall and another workshop on Wednesday, Nov. 14, from 11 a.m.-3 p.m. in the Shaffer Art Building (SU Art Galleries Classroom). Organized by Students Rebuild, One Million Bones is a large‐scale social arts initiative focused on bringing awareness of genocide in Somalia and the Democratic Republic of the Congo through the hands‐on creation of clay and plaster bones. The collection of one million bones will be brought to the National Mall in Washington, D.C., in June 2013 to form a visual petition against genocide.
CFAC is standing in solidarity with genocide victims by contributing 1,000 bones to the visual petition. During the workshop, Syracuse University members will learn how to create plaster bones that will be part of the national visual petition. For 30 days, from Oct. 17-Nov. 17, CFAC has opened its doors to allow students and community members to participate in the bone‐making process while raising global awareness. Groups and individuals are encouraged to contact CFAC at 315‐442‐2230 to schedule a time to create bones. For every bone created, the Bezos Family Foundation will donate one dollar to CARE, a leading relief and development non‐governmental organization fighting global poverty. The foundation will donate up to $500,000.