Campus & Community
Candidates for 2012 Homecoming King announced
The Homecoming Court Selection Committee has announced the 2012 Syracuse University Homecoming Court. This longstanding tradition is just one of many student events, programs and activities that take place during SU's annual Homecoming event, Orange Central.
Voting for this year's king and queen began at 8 a.m. on Monday, and closes at noon on Friday, Nov. 9. The winners will be announced on Friday at the Homecoming Pep Rally in Hendricks Chapel. To vote, visit homecomingcourt.syr.edu; anyone with an active SU Net ID can vote.
Members of the full court are seniors: Whitney Clinkscales, Stephanie Kranz, Chelsea Marion, Lauren Meadors, Chloe Slade, Kevin Belbey, Rodney Fleming, Lawrence Jackson, Harris Maidenbaum, Andre Sadler.
Candidates for 2012 Homecoming  Queen were featured yesterday.
Candidates for King:
Kevin Belbey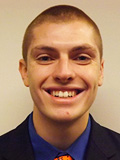 Major: Broadcast Journalism
Hometown: Brick, N.J.
Bio: Who am I? Simple. An ORANGE for LIFE. I'm the head manager for the SU Men's Basketball Team. I've also worked at Z89 Radio and Citrus TV, as well as being a Newhouse Ambassador and peer advisor. I bleed Orange. And I'm the best choice for your Homecoming King!!
Quote: "#DTD Determined to Dominate … Make your seconds count."
Rodney Fleming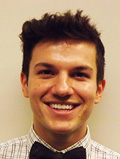 Majors: Advertising and Marketing
Hometown: Parsons, Kan.
Bio: As Otto is with hats, I am with opportunities: I have seized every one of them at Syracuse. My time on the Hill has been enriched by involvement in First Year Players, TNH Advertising Agency, Renee Crown Honors Program and Orange Seeds and I am loving life as a resident advisor. Through changing me, these endeavors have hopefully changed the university community for the better.
Quote: "I may be too short to be Otto, but I still bleed Orange!"
Lawrence Jackson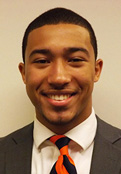 Major: Broadcast Journalism
Hometown: Spring Valley, N.Y.
Bio: Lawrence K. Jackson is a broadcast journalism major in the Newhouse School and a marketing minor in the Whitman School. He is a Scholarship in Action and Our Time Has Come Merit Scholar recipient. He feels SU and the opportunities given to him has molded him into the leader he is today. He would love to represent SU as the 2012 Orange Central King.
Quote: "You alone have the power to determine how far you go."
Harris Maidenbaum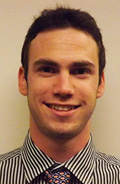 Major: Bandier Program for the Music and Entertainment Industries
Hometown: Merrick, N.Y.
Bio: I am a senior in the Bandier Program for the Music and Entertainment Industries. I am in Tau Kappa Epsilon and have had numerous leadership roles. I would make a great King because I am fun, outgoing and I love Syracuse Orange more than almost everyone I know, except my grandfather, who was class of  '52.
Quote: "Don't take life too seriously, and always love your mom."
Andre Sadler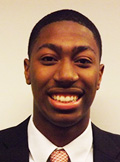 Majors: Marketing and Finance
Hometown: Englewood, N.J.
Bio: As the president of Phi Beta Sigma Fraternity, Inc., member of Order of Omega Greek honor society and peer advisor in the Wells Link Leadership program, I have been able to be a role model for younger students. SU has afforded me many opportunities for which I am grateful. Giving back to my community as well as helping the people around me is very important to me and I would be honored to be your Homecoming King!
Quote: "Syracuse University gives you ties and friendships that will last forever."