Campus & Community
Annual 'Stand Up for Education' Comedy show Nov. 10
Along with the other Orange Central events taking place this week, Phi Beta Sigma Fraternity, Inc,. and Omega Phi Beta Sorority, Inc., in collaboration with the Orange Central Planning Committee, will host the third annual stand up comedy show on Saturday, Nov. 10. Well-known comedians Aries Spears, DeRay Davis and John Witherspoon will take the stage in the Goldstein Auditorium at the Schine Student Center. Doors open at 7 p.m.; the show begins at 7:30 p.m. Tickets are $8 with a SU I.D. and $12 general admission. A percentage of the proceeds will go to SU's Say Yes to Education campaign.
About Aries Spears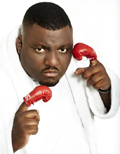 Spears was born in Chicago, but grew up in New Jersey as the funnyman of the household, starting impersonations at the age of 6. By the time he was  14, Spears was playing at local clubs and shortly after appeared in Russell Simmons' "Def Comedy Jam" on HBO and "Showtime at the Apollo." His career lifted off in 1992, when Spears moved to Los Angeles and landed a role on NBC's "A Different World." Known for his hilarious characters played on Fox's hit sketch comedy show "Mad TV," Spears' fresh style and ability to write made him a show regular for seven seasons. Spears also landed roles in well-known movies such as "Home of Angels," "Why Do Fools Fall In Love" and "Jerry Maguire."
About DeRay Davis


Most commonly known for his roles in "Barbershop" and "Barbershop 2," Davis is taking over the comedy scene in Hollywood. Born and raised on Chicago's South Side, Davis started his career in local comedy clubs and got his big break when he was noticed at the Atlanta Laffapalooza Festival. After Davis moved to Los Angeles to pursue his career, he won the Comedy Central Laugh Riots Competition and was a standout on the "Cedric the Entertainer" tour. Davis has been on the small screen in shows like ABC's "My Wife and Kids," HBO's "Entourage," MTV's "Wild N Out," and Comedy Central shows such as "Reno 911" and "Premium Blend," which kick-started his own show on Comedy Central, self-titled "The DeRay Way." He has also been on the big screen in movies such as "The Seat Filler" and Fox's "Johnson Family Vacation."
About John Witherspoon


With catch phrases like "Bang! Bang! Bang! Bang!" and" You Gotta Co-ordinate!" Witherspoon has made a name for himself in the comedic world. As Ice Cube's hilarious, dog-catching father in the New Line Cinema's trilogy "Friday," "Next Friday" and "Friday After Next," and his role as "Pops" on "The Wayans Brothers," Witherspoon has earned his reputation as one of America's funniest dads. Four decades of being on hit television shows, blockbuster movies, commercials and music videos has made Witherspoon the successful and widely popular standup comedian he is today. Not only do his roles in "Boomerang," "Little Nicky" and "I'm Gonna Git You Sucka" make him one of the most memorably funny men in America, but his line of humorous greeting cards or "Spoon Cards" in the John Witherspoon Collection definitely makes him a comedian to remember.