Campus & Community
Alumni, friends welcomed back to campus Nov. 8-11 for annual Orange Central celebration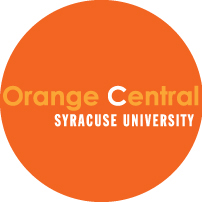 After a week of student activities to pump up the Orange spirit, Syracuse University's annual Orange Central celebration will culminate in an expanded Homecoming + Reunion for alumni and friends Nov. 8-11.
This year's Orange Central celebration features events for alumni, current students, faculty, staff and the entire community. Free parking will be available at many locations around campus.
Special reunions will be held for the classes of 1942, 1947, 1952, 1957, 1962, 1972, 1982, 1987 and 1992; Generation Orange (graduates of the past 10 years); Orientation Leaders; University Union; Alumni Spirit; Hendricks Chapel Choir; Residence Life; Student Centers and Programming Services alumni staff; Earth Sciences alumni and iSchool BLISTS Alumni Reunion
Orange Central will also include a football game on Saturday afternoon against Louisville in the Carrier Dome (time to be determined) and a special men's basketball game-watching event, the Battle of the Midway, SU vs. San Diego State, Friday at 8 p.m. in the Schine Student Center's Panasci Lounge.
Serving as co-chairs for Orange Central 2012 are Rachel Chang G'03 (NEW), editor in chief of Bauer Publishing's J-14 Magazine;  Shiu-Kai Chin '75, G'78, G'86 (LCS), professor of electrical engineering and computer science in the L.C. Smith College of Engineering and Computer Science; Weijia Jiang  G'06 (NEW) reporter for CBS Channel 2 in New York City; and Marcus Solis '91 (NEW), reporter with WABC-TV in New York City.
Register for Orange Central at orangecentral.syr.edu. For questions, contact the Office of Alumni Relations at 1-800-SUALUMS (782-5867), or email orangecentral@syr.edu.
Students build the spirit
SU students begin the preparation for Orange Central with many early-week activities designed to build the Orange spirit, including campus decorating, concert performances and Slice of Orange Days. SU Idol, a student singing showcase, will be held on Thursday, Nov. 8, at 7:30 p.m. in the Schine Student Center Underground. Tickets are available at the Schine Box Office.
Students also play a big role in organizing the 'Cuse Commotion Parade and Pep Rally, which begins at 5:30 p.m. on Friday, Nov. 9,  in front of the Schine Student Center, travels throughout the University area and returns to the Kenneth A. Shaw Quad, where the pep rally will be held in Hendricks Chapel.
Something for everyone
In addition to special reunions, the highlights of Orange Central include:

L.C. Smith College of Engineering and Computer Science Alumni Speaker John Stewart '91, G'92, senior vice president and chief security officer of Cisco Systems Inc. 
Thursday, Nov. 8, 3 p.m.
214 Slocum Hall
Stewart will bring to life the Internet underground, how it is being used today, what can and needs to be done, and the warning for our future.
George Arents Awards Dinner
Thursday, Nov. 8, 5 p.m.
Schine Student Center's Goldstein Auditorium
Hosted by Solis, this dinner celebrates all returning alumni and honors this year's George Arents Award recipients.  The George Arents Award is SU's highest alumni honor and recognizes alumni who are pioneers and leaders in their fields. This year's recipients are Dennis Crowley '98 (NEW), Thom Filicia '93 (VPA), James Arthur "Art" Monk  Sr. '80 (VPA) and Jane Werner Present  '56 (A&S). Reservations are required; visit orangecentral.syr.edu.
Election 2012: What Happened? What Now? 
Friday, Nov. 9, 10:30 a.m.
Maxwell Auditorium
With the presidential election taking place just days before Orange Central, you'll have an opportunity to hear from Robert McClure, Chapple Family Professor of Citizenship and Democracy Emeritus at the Maxwell School, on the results of the election and what to expect over the next four years. A light breakfast will be served at 9:30 a.m. in the Founders Room, Maxwell Hall.
Africa, Tech and Women: The New Faces of Development
Friday, Nov. 9, 11:15 a.m.
111 Hinds Hall
The iSchool presents its Orange Central and BLISTS Annual Reunion, featuring  a keynote address by Liz Ngonzi '92. Ngonzi is the founder and CEO of Amazing Taste, entrepreneur-in-residence at Cornell University School of Hotel Administration and an internal expert on technology and development. She will talk about the multitude of ways African women are applying technology to advance Africa's development, including use of social media, mobile advertising, internet connectivity and digital advocacy.
Idea Jam with Dennis Crowley '98
Friday, Nov. 9, noon-2:30 p.m.
Kilian Room, 500 Hall of Languages
Don't miss this great opportunity to help navigate ideas, roadblocks, and solutions with foursquare's CEO, Dennis Crowley and the Idea Connectors. Student ventures will present business problems they are currently facing and the audience will help solve these problems at facilitated stations. Lunch will be provided. Space is limited. Visit orangecentral.syr.edu for more information.
Orange Central Edition: Alumni Speaker Series Featuring Rachel Chang G'03 and special guests
Friday, Nov. 9, 1 p.m.
Schine Student Center Room 304
Come hear from Newhouse alumna Rachel Chang, editor in chief at Bauer Publishing's J-14 Magazine, the highest-selling monthly teen entertainment magazine, where she booked Justin Bieber's first-ever magazine visit in May 2009.  Newhouse professors Aileen Gallagher and Corey Takahashi will join Chang on a panel that will discuss the state of the magazine industry.
Afternoon chat with Thom Filicia '93
Friday, Nov. 9, 1 p.m.
Warehouse Auditorium
Interior designer and 2012 Arents Award Recipient Thom Filicia '93 (VPA) will engage in discussion with Channel 9 anchor Carrie Lazarus. Filicia is founder and chief creative officer of New York City-based design firm Thom Filicia Inc. Since launching the acclaimed enterprise in 1998, Filicia's New-American Style has earned him widespread acclaim and notable clients in the worlds of entertainment, finance, sports, media, fashion and hospitality. Filicia is universally known for his ability to create stunning modern, yet classic interiors that retain an inviting aesthetic which reflects the individuality of his clients. Filicia's recognition expanded beyond the design world when he was cast as the interior design expert in the Emmy-Award winning hit show "Queer Eye for the Straight Guy."
Institute for Veterans and Military Families (IVMF) Open House
Friday, Nov. 9, 1-3 p.m.
University College, 700 University Ave., Suite 303
Setnor Orange Central Concert
Friday, Nov. 9, 3 p.m.
Setnor Auditorium
Faculty and staff from the College of Visual and Performing Arts' School of Music will present a concert to welcome back alumni and friends to campus. The performance will feature the SU Symphony Orchestra, University Singers and performances by Setnor School of Music faculty, pianist Steve Heyman and organist Kola Owalabi.
"From the Himalayas to Syracuse: Global Pollution and its Environmental Impact"
Friday, Nov. 9, 3 p.m.
105 Link Hall
Cliff Davidson, the Thomas and Colleen Wilmot Professor of Environmental Engineering, will present his research exploring the impact of pollution on human health and climate change. He will also talk about his projects taking place in Syracuse managing water resources and will deliver some ideas on what we can do to live more sustainably.
Book signing and Reception with Thom Filicia '93
Friday, Nov. 9, 4-5:30 p.m.
The Warehouse, fourth floor
Join Filicia for a reception and signing of his new book, "American Beauty: Renovating and Decorating a Beloved Retreat." Price is $44, and includes a copy of the book.
Melvin A. Eggers Senior Alumni Dinner
Friday, Nov. 9, 5 p.m.
Drumlins Country Club
This special dinner is for all alumni who have already celebrated their 50th reunion and includes the presentation of the Melvin A. Eggers Senior Alumni Awards. This year's recipients are Shirley Fenner Reidenbaugh '54 and William G'59 and Penny Jones Allyn '60. Cocktails at 5 p.m.; award presentation and dinner at 6 p.m. Tickets are $30 per person; visit orangecentral.syr.edu for more information.
For a full schedule of Orange Central 2012 events, visit orangecentral.syr.edu.