Arts & Culture
Additional public performances scheduled Dec. 1 and 8 for sold out children's touring production 'A Thousand Cranes'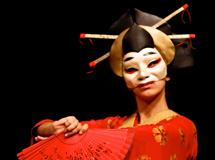 Public performances of this year's Bank of America Children's Show  "A Thousand Cranes," produced by Syracuse Stage and the Department of Drama in Syracuse University's College of Visual and Performing Arts, will be held at noon on Dec. 1 and Dec. 8 in the Storch Theatre at 820 E. Genesee St. "A Thousand Cranes." 45 minutes in length, is recommended for ages 6 and up. All seats are $8 and can be purchased by calling the Box Office at 315-443-3275.
Performed in striking visual terms with puppetry and movement, "A Thousand Cranes" is based on the true story of a 12-year-old Japanese girl named Sadako. Ten years after the atomic bomb was dropped on her town, Hiroshima, Sadako fell mysteriously ill. Wishing that she would be cured, she started folding paper cranes, as an old Japanese legend says that if a child can fold one thousand paper cranes then her wish will be granted by the gods.
"This is a story of beauty and hope. The effects of war are spoken, but it is more about our positive natures, community and one girl's strength to find something good," says Lauren Unbekant, director of education and director of "A Thousand Cranes." "Sadako's irrepressible spirit, dignity and desire for peace is an inspiration. Her story not only reminds us of the fragility of life, but also of the impact a simple gesture of kindness can have on future generations."
In telling Sadako's story, Unbekant has employed various forms of physical theater, incorporating Japanese theater styles—Kabuki, Japanese Noh theater, hip-hop and contemporary Japanese movement. The work also features masks and human-size puppets designed by artist Gabriel Q.
The sold-out fall tour of "A Thousand Cranes" began in September and continues through mid-December. Tour stops include elementary schools in Syracuse and throughout Central New York, including performances in Oswego, Marcellus, Syracuse, Baldwinsville, Cicero and Canastota.
Cast in the production are students from SU's Department of Drama: Betty Etheredge (as Sadako), Erin Schmidt (as Oba Chan), Sammy Lopez (as Father/Actor/Spirits) and Tyler Spicer (as Kenji).