A view of the U.S. presidential elections from abroad
Students studying abroad have viewed the U.S. presidential campaign and election process from the unique perspective of living it in international cities. In the following essays, three students—Jake Reiner '13, who is in London, and Stephen Keil '14 and Rebecca Lucas (a Wellesley College student studying with SU Abroad), who are in Istanbul—share their insights on the election through a different lens.
Jake Reiner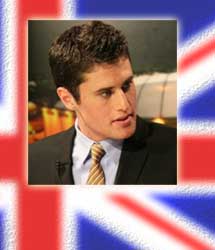 The British electorate might be surprised to find out that what they are paying attention to this election season is no more than a gubernatorial race in the state of Ohio. The American flag has been reconfigured displaying only nine stars in the upper left corner. Across the pond, this is of little concern to the public here.
What is, however, is the dogfight itself. Londoners thrive on their theatrical culture and it appears they are getting quite the show starring President Obama and Gov. Romney. Never did I think U.S. politics would play such a prevalent role in the media coverage here like it has with this election.
In the days before America's battleground states decide who the next leader will be, the British newspapers made it the front page story.
Rupert Cornwell, the U.S. correspondent for The Independent, a British newspaper, is covering his sixth presidential election. He summed up the election on Sunday with, "The longest, the largest, the most important, the gaudiest, and, it must be said, on occasion the silliest, exercise in elective democracy on the planet reaches its climax, as Americans finally make their choice between Mitt Romney and Barack Obama."
The most ruthless presidential election to date, $2.5 billion of negativity and character slashing with two individuals each trying to prove that his opponent is unfit to run the country has dictated this election season. "Neither has deigned, beyond the most vacuous generalities, to tell those whose votes they seek what they propose to do if entrusted with office," Cornwell said, speaking of the candidates.
It's that type of objectiveness that American media desperately needs to adopt in order to be deemed credible. With the exception of the national newspapers like The New York Times, USA Today and The Wall Street Journal, the U.S. media is undoubtedly biased. Especially the broadcast television stations like CNN, Fox News and MSNBC—which are more focused on choosing a side and pleasing a specific audience than forcing the voters to make their own decisions.
I am more likely to trust a British reporter covering American politics than I am listening to a yelling Chris Mathews or just watching anything on Fox News. It's the simple understanding that the British media is the outsider in this situation so you have to ask: why would they try to persuade me in any direction? The fact is the British electorate has a passing, but informed interest in who becomes the next commander-in-chief. The British media has the job of informing, nothing else. Think about it: does the next U.S. president have that much impact on the people of Great Britain?
Which brings me to my next point: why are people over here so interested in a race confined to the fight over a few battleground states in a different country? Archie Bland, deputy editor of The Independent, wrote an op-ed piece entitled, "Is it sad that I find the U.S. elections so enthralling?"
"I love American politics. And I'm a complete idiot for being so obsessed," wrote Bland.
He tried to explain why following an election out of his control would draw him in so closely. "A nice, simple two-candidate face-off, presentable to many British addicts in straightforward enough terms of good guy vs. bad guy; a language we speak: a habit of mind engendered by American dominance in every sphere of cultural life," Bland argued.
What I took it to mean is that if there is enough hype in the states about a certain story, it will reach the rest of the world in no time. This election is reality television at its finest, becoming less and less about the issues and more about the theatricality of a "mano a mano" all-out fight to the finish. The candidates' policies hold little, if any, weight here in Britain. But there must have been a reason that the big networks (BBC, Sky News, ITV) carried all three presidential debates beginning promptly at 2 a.m. U.K. time. People here obviously care and it has a lot to do with the heavy cultural influence America has on the U.K., as Bland was pointing out.
The British media has helped shape and understand my own opinions about this election. I now feel more informed and well-rounded in understanding U.S. politics because they have simplified it so well for me. I now know that the choice is between "a safe pair of hands" in Obama or a change of uncertainty in Romney. Is it safer to go with the devil we know or a transformer that changes his views at the drop of a hat to please the public?
The Economist, a British weekly newsmagazine and newspaper, put it to me straight: "Mr. Romney has an economic plan that works only if you don't believe most of what he says. That is not a convincing pitch for a chief executive. For all his shortcomings, Mr. Obama has dragged America's economy back from the brink of disaster and made a decent fist of foreign policy. So this newspaper would stick with the devil it knows, and re-elect him."
Reiner is a broadcast and digital journalism student in the S.I. Newhouse School of Public Communications. He is also an anchor with CitrusTV News/SA Today and a reporter with NCC News Online.
Stephen Keil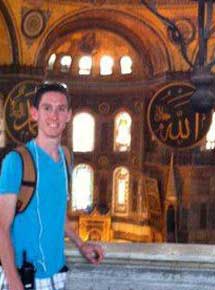 Although this is my first election that I am eligible to vote in, I am not stateside, but in Istanbul with the SU Abroad program. My experience leading up to election night has been different and, as an international relations major, I have been taking advantage of it as much as possible. This is a great time for me to be in Turkey as a growing regional power with a civil war at its southeastern border.
Throughout my first two months, many people that I have met have asked me what I think of Obama. These conversations became invaluable to find out what foreigners think of Obama as well. I found that many foreigners do know about the elections and take genuine interest in them.
What I found even more consistent was that just about every person I spoke with, whether they were a Turk, Kurd, Libyan, or Brit, etc., favored Obama. I received the general sense that they feel he is better for promoting peace and is an honest man. They like that he creates a more modest, diplomatic America rather than one that is militaristic and overbearing.
I have been able to look into Turkish politics and compare them to our politics back home. Turkish politics are more power politics with a multi-party system. It is by no means a full democracy yet, as Prime Minister Erdogan and AKP (the ruling political party) attempt to hold power. Kurdish party BDP supporters have been increasingly active during my time here, with a protest just this past weekend that resulted in tear gas and water cannons by police to break up around 400 protesters. They were incited after 700 imprisoned Kurdish militants took up a hunger strike in September for the release of PKK leader Abdullah Ocalan and other Kurdish rights.
The Turkish government has a history of using the military to enforce the country's founding father Mustafa Kemal Ataturk's vision of secularism. I realized that while mosques surround me, life here is secular and the military is not present at all in daily life. This history, though, can be seen in how Turks treat the police, and they are not polite toward them when they gather in crowds (soccer matches, for example).
Election issues that are important here in Turkey are the American economy and U.S. foreign policy in the Eurasia region. The U.S. economy is the largest in the world and when it struggles, the world economy struggles. The Turkish economy has been growing rapidly over the last 10 years, and it is visible with the amount of construction I pass by on a daily basis. The Turkish economy is strong, but a strong American economy would help them grow only more.
With foreign policy, Turkey is most interested in the candidates' responses to the Syrian crisis, where Romney favors more intervention and arms deals than diplomatic pressures. Turkey has been dealing with masses of Syrian refugees and many are sent to refugee centers here in Istanbul.
The SU-Istanbul program has given us the opportunity to volunteer at the centers. There have also been anti-war protests, which I found hypocritical considering we are about 800 miles away from Syria and not being mortared. Those closer to Syria I think would differ on the protests.
My time abroad during the election has given me a great opportunity to exercise my major during a crucial time, in such a key country. I may not be stateside, but I will be waiting for the election results early Wednesday morning.
Keil is a student in The College of Arts and Sciences. While studying abroad, he writes and interns for www.kalemjournal.com.
Rebecca Lucas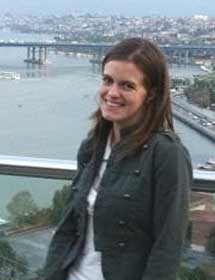 Facebook, Twitter and e-mail mean that much of the American media makes its way overseas. While we certainly get news from other sources and undoubtedly miss developments at home, much of my information about the American election still comes from American news sources, despite being in Turkey for the semester. The biggest difference is that I miss the incessant campaign commercials—which I must say is a relief!
Just because I get my morning news from The New York Times, however, does not mean I have not been shown alternative views of the American presidential race. The diversity of opinion I encounter among my fellow students at Bahcesehir Universitesi has been more interesting, and perhaps more important, than what I read in the news.
Attending a liberal arts college in New England means that a significant proportion of the student body holds the same views that I do. Even where we disagree, we usually take two well-established sides of an argument: for example, taxation always comes back to the same discussion about economics, all of us envisioning the same chart from Econ 101 in our heads. Here, entering into discussion with Turks and other foreign students, both their assumptions and priorities are often different than my own.
For example, the Pakistani student I sit next to in my Turkish class is concerned about an issue that was barely touched on in the foreign policy debate: drones. Though it seems distant to American citizens, to him and other Pakistanis, it is very tangible, not only regarding morality or territorial sovereignty, but of lives saved and lost.
Another similar case is the Syrian crisis. While my friends have not been personally affected, its importance is clear. Today's Zaman, one of Turkey's two main English language newspapers, featured a headline recently that read "Ankara's eyes fixed on US elections for the fate of Syria."
Turkish politicians certainly care about the United States economy; that, too, has real implications here. However, they also care about policy issues that, while abstract to the average American voter, are all too immediate here. The contrast is particularly striking, given that both Romney and Obama kept steering the foreign policy debate back to domestic policies.
At home, much of the debate within the media, between the presidential candidates and between interested parties has centered around domestic policy: the budget deficit, the unemployment rate, abortion.
Spending this fall away from home has been a welcome, and perhaps necessary, reminder that American politics do not occur in a vacuum. Instead, they affect and are affected by global trends and crises, politics and people. Domestic policy is certainly an important issue in this election, but it is important to remember that it is not the only issue. The repercussions of Tuesday night will affect far more people than those casting their ballots.
Lucas is a student in the Class of 2014 at Wellesley College. She is majoring in political science and religion.