Media, Law & Policy
A house divided: Race for the 24th Congressional District seat
Two years ago, Republican challenger Ann Marie Buerkle unseated Democrat Rep. Dan Maffei in an excruciatingly tight contest for New York's 25th congressional seat that was ultimately decided three weeks later and by a margin of less than three-tenths of 1 percent.
This year's rematch—for what is now the 24th Congressional District after a redistricting process earlier this year—has given every indication of being just as close, drawing national attention and record amounts of outside cash in a feverish skirmish over one of just a few dozen House seats considered to be in play nationwide. And regardless of who emerges as victor, SU political scholars say the intensity with which the race has been fought speaks to two starkly different political philosophies and the deep divisions between voters nationwide who embrace them.
The nearly $5 million in outside funding that has poured into both campaigns reflects the critical importance both parties—and their allies—place in gaining even one more seat in a fiercely partisan Congress, says political science Professor Kristi Andersen. "Both parties have metrics to decide which races are winnable," Andersen says. "And both identified the 24th District as such—just as they did in 2010." The acrimonious—some have said "nasty"—tone of the local campaign, she adds, "is just another reflection of the sharp partisan divide nationally."
Professor Jeff Stonecash, who teaches courses in American political parties and electoral behavior, agrees. "The voters are getting a remarkably clear choice here," he says. "There's no ambivalence about these two. One of them believes government's the problem; the other one believes government can help. This is just the way the country has gone; we're a much more polarized nation."
What's particularly remarkable this time around, Stonecash adds—and what has made the contest much closer than it might otherwise be—is that Central New Yorkers, who historically are trending Democratic, probably tend to favor Maffei on the issues but Buerkle on personal qualities.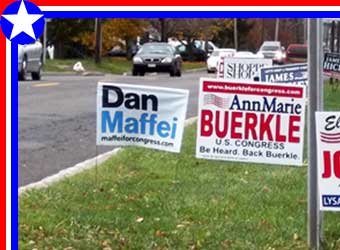 Andersen, who has focused much of her scholarship on women and electoral politics, has found both candidates' efforts to appeal to women particularly intriguing. "It's been fascinating as an illustration of the importance of the 'women's vote,' which, of course, is not—and shouldn't be seen as—a homogeneous bloc of votes," she says. "Maffei obviously made the decision that Buerkle's social conservatism—her position against abortion and against Planned Parenthood, in particular—was a vulnerability, but Buerkle has been able to push back on that fairly effectively."
Whatever the immediate outcome, Stonecash says, neither candidate will necessarily have a lock on the district for the long term. "If Buerkle wins and she's very conservative, she's going to lose down the road," he says. "If Maffei wins and can't do a better job of connecting with the voters, he's going to lose down the road."
His advice to the loser of this year's contest? "Don't disappear. If you think you're going to run again, get out there immediately and work on your image."