Campus & Community
2012 United Way campaign under way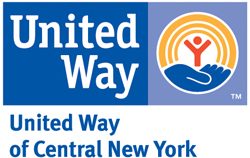 Syracuse University has launched campus-wide activities and events to support the 2012 United Way Campaign, which will run through the end of the calendar year. In October, a pledge card with a message from Chancellor Cantor was sent to all faculty and staff members, followed by e-pledge e-mails Nov. 6. At the bottom of each e-mail, donors are invited to click through and make a paperless, electronic pledge.
The United Way believes "Living united is about working together for positive change in the community." Its network focuses on fulfilling needs in the areas of education, income, health and safety net support services.
Volunteering to lead SU's 2012 campaign efforts is Chair Suzanne Thorin, University Librarian and Dean of Libraries. In 2011 Thorin served as SU's campaign vice chair. In preparation for the campaign, Thorin recruited a cross-campus leadership team, which coordinates campus campaign events and communicates the benefits of supporting the United Way. From October through December, departments across campus sponsor United Way events, including silent auctions, basket extravaganzas, craft fairs and more.
"The United Way is organized for the express purpose of uplifting and caring for all members of our community. As a strong presence in Central New York, Syracuse University plays a key role in its ability to accomplish that mission," says Thorin. "I'll be encouraging all University employees to give as generously as possible to help this important cause."
Through participation in the annual Central New York United Way Campaign, SU is able to contribute to the efforts that benefit 95 local programs and services through 35 agencies. Last year, the campaign at the University raised a record-setting $227,000. Listed below are several campaign-related events:
Tuesday, Nov. 13
Skytop Basket Extravaganza, 11 a.m.-2 p.m., 621 Skytop Lobby
College of Law Bake Sale, noon-1 p.m. Law College second floor, across from cafeteria
Wednesday, Nov. 14
Skytop Basket Extravaganza, 9 a.m.-2:15 p.m., Skytop Office Building second floor lobby
Thursday, Nov. 15
Hand Crafted Jewelry Sale, 11:30 a.m.-2 p.m., Steele Hall second floor lobby
Thursday, Nov. 29
Newhouse Craft Fair, 10 a.m.-4 p.m., Newhouse 3 second floor, Food.com area
Tuesday, Dec. 4
University College Luncheon & Silent Auction
Friday, Dec. 7
Auction Extravaganza, Bird Library, Peter Graham Scholarly Commons
To become involved in SU's campaign, or if you have questions, contact coordinator Kate Hammer at 443-3919 or kehammer@syr.edu.