New children's book marks second publication for SU daycare staff members
A children's book by staff members at Syracuse University's Early Education and Child Care Center (EECCC) is already charming young readers in Central New York.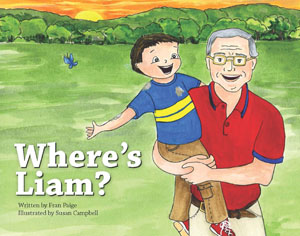 "Where's Liam?" was written by Fran Paige and illustrated by Susan Campbell, both teachers at EECCC. It tells a story of "expectation, disappointment and the spirit of a terrific little boy who will win your heart," says Paige.
This is the second collaboration for Paige and Campbell. Their first book, "Reagan McFagen," published in 2010, chronicles the adventures of a precocious young girl who likes to draw. Both books feature characters based on Paige's grandchildren.
"Writing this book has been a delight for me," says Paige. "And the children [at EECCC] have responded enthusiastically."
Paige read the story to EECCC preschoolers last spring. The illustrations were not yet complete at that time, so she created a mock-up using family photos and magazine clippings as art. "The last page had no picture, and one of the children suggested a sunset, because [in the story] the day is over," says Paige. Campbell incorporated the concept into her illustrations, including a sun that rises and sets over the course of the book. "Susan did an amazing job with the illustrations," says Paige. "She really captured the emotion of the story."
The book became a learning opportunity for children in the preschool room at EECCC, which also includes infant and toddler rooms. Paige, who works with the infants, spoke with the preschoolers about the process of creating a book—from developing an idea to writing the text to working with the artist to going to print. She also met with the children in small groups, giving them the opportunity to ask questions and make comments, and incorporated some of their feedback into the book, which the children were able to see after it was published. She is now working with the preschool teachers on curriculum and activities focusing on book publishing.
Paige, who has eight adult children and five grandchildren, says she began writing stories when her children were young. She holds a degree in early childhood education and has been with EECCC for 14 years. A native of Central New York, she says she is proud that the book was written, illustrated, designed and printed in Syracuse.
Campbell, who has a fine arts degree, has been with the center for 10 years. She has three children. "Susan deserves a huge amount of the credit," says Paige. "She really did a professional job."
Paige will sign and sell copies of the book at the LaFayette Apple Festival (Tent B) on Oct. 6 and 7.
"Where's Liam?" is available at the Syracuse University Bookstore. Copies can also be purchased by contacting Paige at frantpaige@aol.com.