Veterans
War and drugs: Addressing substance abuse in the military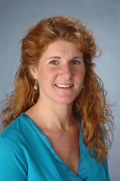 A recent report by the Institute of Medicine (IOM) points out some troubling statistics about substance abuse in the military, calling the situation a "public health crisis" and urging the Department of Defense to improve prevention and treatment care for service members.
For public health professor and certified addiction specialist Dessa Bergen-Cico, the report held no new revelations—and ran parallel to some of her own research, discussed in her book, "War and Drugs: The Role of Military Conflict in the Development of Substance Abuse."
Published in June, "War and Drugs" (Paradigm Publishers) explores the relationship between military conflicts and substance use and abuse throughout history, and the growth of substance abuse among veterans, especially from the Vietnam and Iraq-Afghan eras. Bergen-Cico pulls in government statistics and research—including from her own work—to represent the growing problem, the connections with post-traumatic stress disorder (PTSD) and suicide, and the critical solutions to identify and treat those suffering.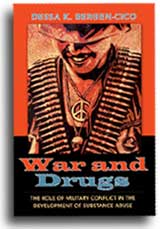 "This data has been available; I just pulled it all together," says Bergen-Cico '86, G'88, G'92, who is lead faculty of addiction studies within the David B. Falk College of Sport and Human Dynamics and holds a research appointment at the Syracuse Veterans Affairs Medical Center (VAMC). "Even with the numbers out there, nobody seemed to care."
This new report—and deeper perspectives, as in Bergen-Cico's book—may help change that.
Among other statistics, the IOM report notes that for active duty military personnel, binge drinking increased from 35 percent in 1998 to 47 percent in 2008, and misuse of prescription drugs increased from 2 percent in 2002 to 11 percent in 2008—seemingly a trend related to the number of combat-related injuries and proliferation of opiate-based prescription pain medications since the start of the wars in Iraq and Afghanistan.
Bergen-Cico began to see some movement by the government to more fully address these issues during a conference in 2009 that brought together the military and the addictions and trauma research communities. "At this time, with the prevalence of veterans with PTSD and substance abuse problems, and the rising numbers of suicides among military personnel and veterans, there is some political fire underneath the issue," Bergen-Cico says.
Bergen-Cico points out in her book that there are strong connections between PTSD and substance abuse, with 80 percent of those dealing with PTSD also experiencing substance abuse, depression and anxiety.
Although there is now a greater understanding of PTSD as compared to previous wars, both the report and Bergen-Cico relay the conviction that there needs to be an improvement in care, including using multidisciplinary teams of service providers. "Instead of waiting until symptoms of behavioral problems or chemical dependency appear, it should become part of routine medical screening," Bergen-Cico says.
Military personnel face significant stress in their duties: combat trauma, injuries and separation from family, among others. And the stress can manifest itself as PTSD, anxiety, hypervigilance and depression—and in turn the use of alcohol and other drugs becomes an attractive means of temporarily relieving those symptoms.
For example, when individuals have flashbacks or bad dreams, they may drink to excess to suppress the thoughts or bypass the early sleep phase when intrusive thoughts emerge and minds are active. "It's a matter of recognizing the thought processes and behaviors that are related to PTSD, and treating those symptoms, that often helps to alleviate the substance abuse," Bergen-Cico says.
The military has established programs, such as Battlemind Training, to prepare soldiers with meditation and resiliency skills before they go into the field, Bergen-Cico says. While "in theater," troops are being counseled after they have dealt with traumatic episodes.
Another strategy to help members of the military and veterans suffering from PTSD is mindfulness-based stress reduction (MBSR). Bergen-Cico is involved in research with the Syracuse VA that involves veterans who are participating in a brief MBSR program. "MBSR cultivates strategies for mind-body awareness that helps foster awareness of your own thought processes, enhancing concentration and recognition when you're holding in physical tension and giving your body and mind respite from stressful thoughts and postures," she says. With further study results, Bergen-Cico hopes that the VA study can expand to larger, multi-site research trials.
Based at SU, the Institute for Veterans and Military Families (IVMF) is also attentive to these issues through its mission to support military members as they transition back into the community.
"We are very interested in these issues—how it not only affects the reintegration and the success of veterans but what is the impact on families," says Gary Shaheen, IVMF director of employment policy. "Substance abuse can also be accompanied by a co-occurring mental illness and one condition can mask the existence of the other. When combined with lack of income and a safe and affordable place to live, the primary conditions are met to place veterans and their families more at risk for homelessness."
Shaheen also agrees that with the potential relationship between mental health disorders and substance abuse, the two should be treated together—an idea advocated by the Substance Abuse and Mental Health Administration and the Syracuse VAMC Center for Integrative Healthcare. "We should look deeply at how these issues have been addressed, and in particular the research and practice on integrated treatment," he says.
IVMF, with the Burton Blatt Institute, manages a U.S. Department of Labor Homeless Veterans Reintegration Program center to help veterans who are homeless get jobs, and was also awarded state funding to develop a technical assistance center that will work with VA-funded support programs to prevent homelessness.