Arts & Culture
VPA's Zeke Leonard honored with Continuum + Arthur Pulos Award for innovation in interdisciplinary design education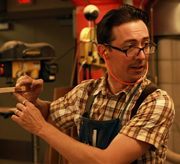 Zeke Leonard, an assistant professor of environmental and interior design in Syracuse University's College of Visual and Performing Arts (VPA), is the recipient of the 2012 Continuum + Arthur Pulos Award, which recognizes innovation in interdisciplinary design education at SU.
The Continuum + Arthur Pulos Award was established in 2011 by Continuum, a global innovation design consultancy co-founded by Gianfranco Zaccai '70 H'09, its president and chief design officer. The award, which includes a $10,000 stipend to further creative and scholarly work, is presented to an exemplary full-time faculty member at SU who has made unique and valuable contributions to interdisciplinary design education. Its name in part honors the late Arthur Pulos, ICSID, FIDSA, a globally renowned industrial designer, an early leader of the industrial design profession and a professor and longtime chair of the VPA's Department of Design. He championed the concept that design should act as a bridge across departments and disciplines within a university and within industry.
In her nomination of Leonard, SU School of Information Studies (iSchool) Dean Elizabeth Liddy observed that his work "exemplifies the values of innovation, collaboration and excellence in design education" and cited his numerous community-based projects as strong examples of the University's mission of Scholarship in Action. Selection committee members noted that Leonard "lives inter-disciplinarity" and that in his numerous projects "collaboration is always in the forefront." In initiatives ranging from the Little Free Libraries Project on Syracuse's Near West Side to his collaboration to teach young children how to build musical instruments out of found objects, Leonard has, the committee noted, impacted a remarkable number of people in a relatively short period of time.
Leonard holds a bachelor of fine arts degree in set design from the University of North Carolina School of the Arts and a master of fine arts degree in furniture design from the Rhode Island School of Design (RISD), where he received the inaugural Tage Frid Award for excellence in teaching. His thesis was a deep study of the spaces we occupy and the phenomenon of social acceleration. After graduating from RISD with honors in 2008, he embarked on a studio practice in Fall River, Mass., where he made bespoke furniture by hand, piece by piece. He also developed a design philosophy that has a firm foundation in sustainable practices and responsible design.
Leonard joined the environmental and interior design faculty in VPA's Department of Design in 2009. In his time at Syracuse, he has worked with other faculty and members of the community to build bridges between design disciplines, between designers and users and between SU students and the community. As a recent resident artist at 601 Tully, a cultural center for engaged practice in Syracuse, he was commissioned to make and install found-object musical instruments as part of a permanent installation. He also worked on a project about mountaintop removal with Washington, D.C.-based Dance Exchange, which has led to him playing his cigar box banjo at the Kennedy Center as well as a continuing collaboration with the company.
Currently Leonard is working on the Little Free Libraries project, which brought together library science students from the iSchool, design students from VPA and members of the Near Westside community to design, stock and monitor three little free libraries in the Near Westside. The project won a 2012 Chancellor's Award for Public Engagement and Scholarship at SU.
The Continuum + Arthur Pulos Award committee is comprised of the chair of VPA's Department of Design, the VPA associate dean for research and graduate studies, the SU vice president for research, a delegate from Continuum and a student majoring in design.