Environmentalist Bill McKibben kicks off 2012-13 University Lectures series Oct. 10
Bill McKibben, one of America's best known environmentalists, will kick off the 2012-13 http://lectures.syr.edu">University Lectures season on Wednesday, Oct. 10.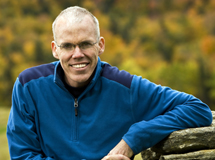 McKibben will speak on "350: The Most Important Number in the World" at 7:30 p.m. in Hendricks Chapel. The lecture, sponsored in cooperation with the Syracuse Center of Excellence in Environmental and Energy Systems, is free and open to the public. American Sign Language interpretation and CART will be available at this event.
In this talk, McKibben will describe the science of climate change and talk about the inspiring global movement that he's led to help change the world's understanding of its peril, and spur the reforms necessary to get the planet back to safety.
McKibben has written books that have shaped public perception—and public action—on climate change, alternative energy and the need for more localized economies. He is the founder of 350.org, a global grassroots climate change initiative that organized thousands of events in most of the world's nations on Oct. 24, 2009.
His seminal books include "The End of Nature" (Random House Trade Paperbacks, 2006), widely seen as the first book on climate change for a general audience, and "Deep Economy" (St. Martin's Griffin, 2008), a bold challenge to move beyond "growth" as the paramount economic ideal and to pursue prosperity in a more local direction—an idea that is the cornerstone of much sustainability discourse today. A former New Yorker staff writer and Guggenheim Fellow, he writes for various magazines, including Rolling Stone, The Atlantic, National Geographic and The New York Review of Books.
In 2007, McKibben founded stepitup07.org to demand that Congress curb carbon emissions that would cut global warming pollution 80 percent by 2050. On April 14, 2007, as part of the effort, McKibben helped lead more than 1,000 demonstrations, across all 50 states, a watershed moment described as the largest day of protest against climate change in the nation's history.
In July 2012, he authored "Global Warming's Terrifying New Math," an article in Rolling Stone magazine that argued that three numbers add up to global catastrophe. In November, McKibben and 350.org will embark on a month-long, nationwide tour, "Do the Math," to build awareness on the "terrifying math of the climate crisis."
The Office of University Lectures welcomes suggestions for future speakers. To recommend a speaker, or to receive additional information about the University Lectures series, contact Esther Gray in the Office of Academic Affairs at 443-2941 or eegray@syr.edu.
During the fall 2012 semester, the series will also feature political analyst Ron Brownstein (Oct. 23) and nutritionist and consumer advocate Marion Nestle (Nov. 13). During the spring 2013 semester, guests will include ocean rower and environmental campaigner Roz Savage (Feb. 27, 2013); Conor Grennan, founder of Next Generation Nepal (March 5, 2013), National Geographic photographer Jim Richardson (March 19, 2013); and Tony-winning playwright David Henry Hwang (April 4, 2013).