Campus & Community
University College's de Berly hosts delegation of Russian university educators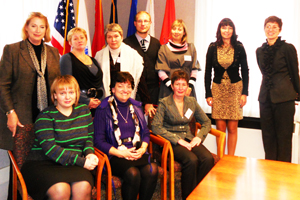 Geraldine de Berly, University College (UC) senior associate dean and English Language Institute (ELI) director, hosted a luncheon and led an open dialogue on higher education opportunities for a delegation of seven Russian university educators at University College on Tuesday, Oct. 23.
The delegates traveled to Syracuse as participants in the International Center of Syracuse (ICS) Open World Program 2012. Joined by Ruth Ragonese, ICS director; Michael Frasciello, UC assistant dean of Online Learning and Information Services; and Aviva Abramovsky, College of Law associate dean, and director of the Master of Laws (LL.M.) program; the dynamics of the discussion were augmented by ELI Language coordinator Olga Oganesyan and ELI student Sergey Golovko. The delegation was given a tour of the SU campus following the dialogue.
The weeklong forum reflects the Open World Leadership Center mission statement: "To enhance understanding and capabilities for cooperation between the United States and the countries of Eurasia by developing a network of leaders in the region who have gained significant, firsthand exposure to America's democratic, accountable government and its free-market system."
The Open World Leadership Center, which began as a pilot program in the late 1990s, resides in the U.S. legislative branch and serves the U.S. Congress.