Campus & Community
True Colors workshop will help students understand themselves and others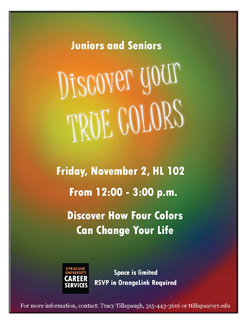 Syracuse University Career Services, within the Division of Student Affairs, will host a special True Colors workshop for juniors and seniors in Hall of Languages, Room 102, on Friday, Nov. 2, from noon–3 p.m. This hands-on, interactive workshop will help students understand themselves and others based on personality and temperament, and help them gain more insight into different career paths. All interested students must RSVP for this event in OrangeLink via MySlice. Space is limited.
True Colors uses four colors: gold, blue, orange and green, to distinguish personality type. By knowing their True Colors, students can learn how to embrace diversity by understanding the ways people see the world differently, listen differently and also act differently according to the multiple color combinations. In addition, students will see how the colors help them understand their interpersonal preferences, communication style and character.
Tracy Tillapaugh, a career consultant in Career Services and certified True Colors trainer, emphasizes the importance of students identifying their color combination early, so that they can learn how to embrace diversity in school and work environments.
"Becoming a True Colors Certified Trainer this past year has changed how I interact with my colleagues and my family," says Tillapaugh. "Self-awareness and being sensitive to others can only increase success in future internships and jobs for students."
For more information, contact Tillapaugh at ttillapa@syr.edu or 315-443-3616.