Tracy Metz book signing, talk address Netherlands landscape in relationship to water
Tracy Metz, an American-born journalist and author on art, architecture, urban planning and the landscape, will present a talk about her new book, "Sweet & Salt: Water and the Dutch" (NAi 2012) in Slocum Hall Auditorium Tuesday, Oct. 9, at 5 p.m. A signing reception will follow. Syracuse University School of Architecture and the College of Visual and Performing Arts Transmedia Department are co-sponsors. The public is welcome to attend.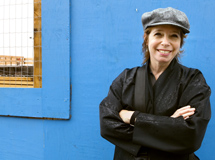 Developing a flexible and adaptive relationship to water is one of the greatest global challenges of our time, and our future as climate change is increasing the threat of both flooding and drought. In "Sweet & Salt: Water and the Dutch," Metz describes the impact of water on Dutch culture, economy and landscape and explores 21st-century global water challenges and state-of-the-art solutions.
The landscape of the Netherlands is undergoing an 'extreme makeover' as the Dutch reinvent their relationship to water. Under pressure of the changing climate, the country that fashioned its landscape so distinctly in order to keep water out, is now adjusting its centuries-old strategy of self-defense: it is letting the water back in. The engineering of dikes and polders has created a landscape as a cultural and technological product on a scale unique in the world. Now integrated water infrastructure such as dikes, new river bypasses, floating structures and flexible planning processes is reshaping it. "Sweet & Salt" looks not only at the Netherlands, but also at other places in the world that are confronting similar challenges, such as New Orleans, New York, Hamburg, Vietnam and China.
Metz is an international correspondent for Architectural Record and an art editor with Dutch newspaper NRC Handelsblad. In 2006-07, she was awarded the mid-career Loeb Fellowship at Harvard Graduate School of Design. Subsequently, she published a selection of her columns and essays on American planning and use of space, "On The Ground: Observations from Harvard." She also initiated a two-year collaboration between Harvard and the Dutch government on water and the climate. She is a visiting fellow at Harvard. In 2007-08, she was a member of the Delta Commission, appointed by the Dutch cabinet to advise the government on long-term water safety. Prior to this, she was a visiting researcher at the Netherlands Institute for Spatial Research and a member of the Rural Area Council, the independent advisory board of the Dutch Ministry of Agriculture, Nature and Food Quality.