Multiple venues showcase 'TONY 2012' for Oct. 18 Th3
Several venues will showcase artists who are part of "The Other New York" multiple-gallery exhibition during the Third Thursday (Th3) event on Oct. 18. Th3 is a consortium of 22 Syracuse arts venues that coordinate free monthly visual arts events from 5-8 p.m. on the third Thursday of each month. The exhibitions are as follows:
ArtRage–The Norton Putter Gallery
505 Hawley Ave., 218-5711
Exhibition on view: "TONY: 2012"
Featuring the work of Ben Altman, Neil Chowdhury, Bob Gates and Paul Pearce
Community Folk Art Center
805 E. Genesee St., 442-2230
7 p.m.: "A Journey Through Music of the African Diaspora"
Performance by the Bill Horrace Band in the Black Box Theatre. The band will perform a blend of original jazz and contemporary tunes.
Exhibition on view: "TONY: 2012"
Featuring work by Elizabeth Leader, Michael Moody, Abisay Puentes and Sandra Stephens.
Eureka Crafts
210 Walton St., 471-4601
5-8 p.m.: Opening Reception for the Eureka Crafts "Academic Art … Teachers That Do" series
Meet the Artist Reception with Christian Brothers Academy Art teacher Caryl McGinty
Everson Museum of Art
401 Harrison St., 474-6064
6:30 p.m.:"TONY 2012: Lure of the Local"
Artists include Jason Bernagozzi, Elizabeth Leader, Bob Gates, Michael Bosworth, Timothy Frerichs and Caitlin Foley from the DS Institute.
Light Work/Robert B. Menschel Media Center
316 Waverly Ave., 443-1300
Exhibition on view:
"TONY: 2012" featuring work by Sarah Averill, Bang-Geul Han, Mark McLoughlin, Jan Nagle and Matthew Walker

The Link Gallery @ The Warehouse/ PAL Project
350 W. Fayette St.
PAL Project/Hillside Work-Scholarship Connection "I Am Intricate and Special"
Opening reception: 3-5 p.m.
Petit Branch Library
105 Victoria Place, 435-3636
National League Of American Pen Women
Point of Contact Gallery
914 Genesee St., 443-2169
Exhibition on view:
"INK GEOGRAPHIES," a show by Oscar Garcés, as part of The Other New York: TONY 2012.
Special Collections Research Library (note, SCRC closes at 7 p.m.)
6th Floor, E.S. Bird Library, Syracuse University
Exhibition on view:
"Assembly-line Architecture: Repetition and Innovation in the Work of Marcel Breuer"
SUArt Galleries
Shaffer Art Building, Syracuse University, 443-4097
Exhibitions on view:
"Karl Schrag: Memories and Premonitions"
"TONY: 2012"
"Ben Shahn and the Passion of Sacco and Vanzetti"
"Collecting Focus: New Prints and Photographs"
Syracuse Ceramic Guild
112 Wyoming St. #119 (in the Delavan Center building), 751-2529
Three-person exhibit and sale featuring the work of Anne Foulke, Pam Steele and Denise Dowdall
Szozda Gallery
501 Fayette St.
Exhibition on view: "Altered Environments"
The exhibition brings together two local artists, mixed media painter Laura J. Wellner and fine art photographer Willson Cummer, who view environments in different ways but whose works complement each other.
Urban Video Project
401 Harrison St. (Everson Museum)
On view:
Karen Brummund, part of "TONY: 2012"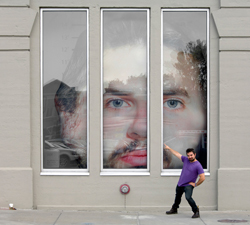 The Warehouse Gallery
350 W. Fayette St, 443-6450
Exhibitions on view:
Main Galleries: "Lov U," a multi-media installation by Senga Nengudi
Window Projects, viewable 24/7:
"TONY 2012": featuring Jeffrey Einhorn's site-specific installation "A Portrait of the Artist as a Giant Deflating Head"
Westcott Community Art Gallery
826 Euclid Ave., 478-8634
The dB "Cultural Revolution" series by DECIBEL:
Propaganda images generated during the Cultural Revolution in China have been remixed to create commentary on the modern cultural revolution society is undergoing in the form of music, art & media. Elements of the old and new are mixed together to evolve into something new. DECIBEL will be offering their designs on T-shirts.
XL Projects
307-313 South Clinton St., 443-2542
Exhibition on view:
"TONY: 2012"