Media, Law & Policy
Bullied student interviewed by British documentary crew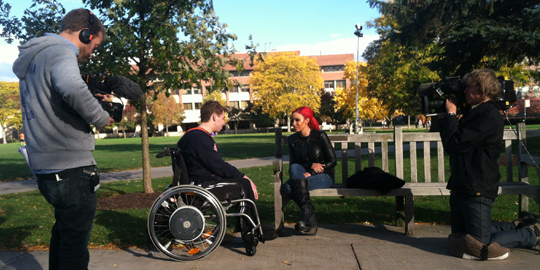 The first thing you might notice about Sawyer Rosenstein is his dynamite smile and infectious personality. The SU sophomore brims with it.
The second thing you might notice is his voice. As a student in the S.I. Newhouse School of Public Communications and WAER radio reporter, he's got the pipes and delivery style commonly heard on news radio stations nationwide.
Finally, you might also notice Rosenstein uses a wheelchair. It's become part of his life since a bullying incident left the New Jersey native paralyzed from the waist down. A sucker punch to Rosenstein's stomach caused a blood clot to form, ultimately leaving him without the use of his legs. The attack occurred despite the fact that Rosenstein repeatedly asked school administrators for help prior to the punch that changed his life.
"Probably the lowest point," says Rosenstein, "was lying there alone when it was quiet. Problem is, whenever it's quiet, you're alone. You have your thoughts."
Rosenstein's case dates back nearly six years, but is in the news after a judge ordered Rosenstein's former school district in Ramsey, N.J., to pay him $4.2 million. His story is receiving worldwide attention. Just recently, a documentary crew from the United Kingdom paid a visit to the SU campus to tell Rosenstein's story as part of a series on bullying.
"When this whole thing was happening, when I was being bullied and I wrote to them, there was no accountability at all," says Rosenstein. "They would just shake it off as another complaint. I wanted the actual ability to say okay, something was wrong in this school, and that they would admit guilt."
Since Rosenstein's attack, school districts nationwide have taken notice, instituting new anti-bullying measures. It's not just elementary, middle and high schools doing this. Syracuse University, for instance, has clarified language regarding acts of bullying, especially bullying instances online.
As for Rosenstein's case in New Jersey, it was not an isolated incident.
Rosenstein's school district agreed to the settlement but never claimed responsibility. The lawsuit filed by his family alleges that the boy who attacked Rosenstein did the same to another student a week before.
Rosenstein wasn't the only one to contact school officials about instances of bullying taking place on school grounds. He talked about one close friend who went through a similar situation. "He wrote letters, I wrote letters, both of our parents wrote letters. There was one bully who said I owed him a dollar. I went to my guidance counselor and told him, and asked, 'What do I do?' He gave me a dollar and said, 'Give it to him.'  That doesn't do anything. Sure, he gets a dollar, but that just sends out the message that it's okay."
A crew from the UK's Dragonfly TV spent a weekend afternoon with Rosenstein on the Quad, talking with him about his story and the challenges he faces.
"Anybody who's had anything traumatic happen to them in life, I can almost guarantee that 99 percent of them will have questions like, 'Why did this happen? Why me?'" says Rosenstein. "Those are the worst questions because you know you're never going to get an answer to them, and you're stuck with those thoughts. That was the worst. Thankfully, I had my parents to help me through. Those thoughts are always there. I'm able to push them to the back of my mind since I have enough positive things to outweigh the negatives."
It's why Rosenstein is taking a bright, upbeat approach to what lies ahead.
"I consider myself lucky," says Rosenstein. "Despite what happened, I'm happy with where I am. That should say something. I've done so many things that a typical person of 18 hasn't. Space is one big thing for sure."
Rosenstein is referring to his love for the space program, and the "Talking Space" podcast he cohosts that has tens of thousands of listeners.
"It all started about five years ago. It was after I couldn't go back to the acting summer camp I was attending. My parents helped look around and found this place called the Challenger Center for Space Science Education. So I went to it and asked if I could attend the summer camp. The director told me the age limit was 12, but we'll let you in," Rosenstein says. "So I went, and I loved it. It was so much fun. I got to go on a simulated space mission and design a Mars mission. It was cool. I wanted to stay involved, so sure enough, I became the summer camper who never left. I've been there five years now."
That also led to another opportunity, one that reaffirmed Rosenstein's love for performance, both on stage and on mic.
"That started my love for space," says Rosenstein. "That's how I wound up at Syracuse. I joined Twitter, and found a person who posted 'I hate the way the media portrays space. Anyone want to do a podcast with me where we portray it our own way, the correct way?' I said sure. A couple of us joined, and on Sept. 9, 2009, the first episode of the 'Talking Space' podcast was released," Rosenstein says.
Thanks to that podcast, over the past three years he covered launches and built a regular listener base of over 20,000 people worldwide.
"The highlight was going down to the Kennedy Space Center in Florida to witness the final space shuttle launch, not as an observer, but member of the media," Rosenstein says. "We broadcast the launch live on the radio to over 200,000 people. I was shocked. That's one of those once-in-a-lifetime experiences where at 17 years old, I'm doing something people much older than me are doing."
Broadcasting is in Rosenstein's blood. The podcast led him to seek a career in broadcasting, and the Newhouse School was an obvious choice. Along with his podcast, Sawyer also files regular news reports on WAER-FM.
As difficult as it is for Rosenstein to retell his story, he does so with charm and a sense of humor. He says his parents helped him through some of his dark moments. He says he gets many requests for interviews, but typically turns them down. He agreed to do this one because he believes it will have an impact. Before parting ways, members of the documentary crew told Rosenstein how much of an inspiration he is.
And it's true. Some of the stories the crew plans to cover in the documentary involve young people for whom the incidents of bullying led to suicide. Rosenstein, however, has gained strength from what was admittedly a dark period of his life. He persevered, and is stronger as a result. He says if his story stops at least one instance of bullying, then retelling it is all worthwhile.
Rosenstein's story will air next year in the United Kingdom, and possibly in the United States afterward. He  says he'll watch. That is, if he's not busy with school work, radio reporting, podcasting or witnessing another launch into outer space.
As Rosenstein likes to say, "Don't tell me the sky is the limit when there are footprints on the moon."