Arts & Culture
SUArt Galleries presents 'Pulled, Pressed and Screened: Important American Prints'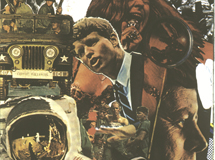 The SUArt Galleries will present "Pulled, Pressed, and Screened: Important American Prints," an exhibition that surveys the activities of artists who put designs on paper during the time period of the 1930s to the 1980s. The exhibition includes 51 original prints, including screenprints, etchings, lithographs, aquatints, woodcuts and engravings.
The exhibition will run Nov. 8 through Jan. 6, 2013 in the Shaffer Art Building. Gallery Hours are Tuesday-Sunday 11-4:30 p.m.; Thursdays 11-8 p.m. The gallery will be closed Thanksgiving weekend and the University Green Days (Dec. 24- Jan. 1, 2013).
The SUArt Galleries will host a free opening night reception from 5-7 p.m. on Thursday, Nov. 8.  Patrons are welcome to view the exhibition until the gallery closes at 8 p.m. The reception is open to the public.
Select programming associated with the exhibition includes a Lunchtime Lecture with Domenic Iacono on Wednesday, Nov. 14, at 12:15 p.m., and a SUArt Kids Printmaking Workshop on Saturday, Nov. 17, and Sunday, Nov. 18, at 2 p.m.  The show is free and open to the public. Complete information and related programming is available by visiting the SUArt Galleries website at suart.syr.edu.
The printed image in American art went through profound changes during the six decades surveyed by this exhibition.  Beginning with the black-and-white lithographs popularized by the regionalists and urban realists and continuing through the experimental intaglio prints of the abstract expressionists, the 'Pop' explosion of screenprints, and the precision of super realism, printmaking has captured the imagination of countless American artists.
Thomas Hart Benton, Grant Wood, Anne Ryan, Milton Avery, Dorothy Dehner, Robert Motherwell, Andy Warhol, Jasper Johns and Richard Estes are a few of the artists represented in this examination of the growth in popularity of printmaking among American artists during this 50-year period.  Especially significant are the contributions of women to printmaking during this era, as well as the impact of African American artists on the graphic arts. Combined with artists who immigrated to the United States and the increased numbers of painters and sculptors who took up the medium, this exhibition makes the egalitarian nature of the print abundantly clear.
Curated by SUArt Galleries Director Domenic Iacono, "Pulled, Pressed and Screened" is drawn from the Syracuse University Art Collection holdings of more than 12,500 prints of which more than 7,500 are by American artists.  This deep collection makes available work by print innovators such as Mauricio Lasansky, Gabor Peterdi, Boris Margo and Garo Antreasian.  It also enables SUArt Galleries to share the work of specific art publishers such as the International Graphics Art Society, Associated American Artists and Universal Art Limited Editions.