Arts & Culture
SUART Galleries presents 'Jeff Davies: Straight from the Heart'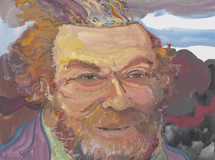 The SUArt Galleries will present "Jeff Davies: Straight from the Heart," an exhibition celebrating the life and artwork of Syracuse resident Jeff Davies (American, 1938-2006).  The exhibition includes more than 30 original pieces of art by Davies, including acrylics, watercolors and drawings.  Curated by SUArt Galleries Associate Director and Curator of Collections David Lake Prince, the exhibition examines the creative output of this eccentric artist, who was known throughout the Syracuse arts community.  The works in the exhibition are drawn from the artist's estate and a number of Davies' private collectors and friends.
The exhibition will run Nov. 8-Jan. 6, 2013, in the Shaffer Art Building. Gallery Hours are Tuesday-Sunday, 11 a.m.-4:30 p.m.; and Thursdays 11 a.m.-8 p.m. The gallery will be closed Thanksgiving weekend and the University Green Days (Dec. 24- Jan. 1, 2013).
The SUArt Galleries will host a free opening night reception from 5-7 p.m. on Thursday, Nov. 8.  Patrons are welcome to view the exhibition until the gallery closes at 8 p.m. The reception is open to the public.
Select programming associated with the exhibition includes a Lunchtime Lecture with David Prince on Wednesday, Nov. 28, at 12:15 p.m.  The SUArt Galleries also plans to create a history of the artist, through personal interviews with his surviving friends, written stories submitted through the exhibitions website, and recordings of the artist. This assembled archive will be available online.  For more information, or to find out how you can contribute, email suart@syr.edu.  Complete information and related programming is available by visiting the SUArt Galleries website at suart.syr.edu.
Unlike some unconventional characters, Davies was consciously eccentric.  He chose to be different, to not blend in.  As his close friend Bill McDowell says, "He enjoyed being a controversial figure.  In a way he felt that his mission in life was to stir things up.  He got expected reactions to the more outrageous work that he did and it was intentional."
Davies began his artistic career by making small, quickly conceived and finished line drawings for co-workers at the Onondaga County Water Authority, where he worked as a draftsman.  His desire to be an artist and his own man caused him to abandon a comfortable suburban lifestyle and relocate alone from Marcellus, N.Y., to Syracuse.  He resided in different apartments in the greater Westcott Street area, subsisting on sales of his paintings and the modest income from a small stock dividend.  His idiosyncratic images and lifestyle gained him a near cult status among local collectors.