Arts & Culture
SU Honorary Trustee, VPA alumna Dorothea Ilgen Shaffer dies at 101
Dorothea Ilgen Shaffer '33 H'90, an honorary member of Syracuse University's Board of Trustees and an alumna of the College of Visual and Performing Arts (VPA), died Wednesday, Oct. 17, in Lewisberry, Pa. She was 101.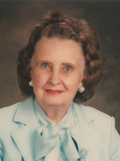 Born in 1911 in Tamaqua, Pa., Shaffer graduated with a bachelor of fine arts degree from what was then known as SU's School of Art. While at the University, she was a member of the Panhellenic Association Delta Delta Delta sorority and the English Club. After graduating, she worked as a public school art teacher in Harrisburg, Pa. In 1933, she founded Ilco, a commercial interior design firm. She earned a master of arts degree from Pennsylvania State University in 1948.
Shaffer's dream of establishing a new facility for VPA's School of Art and Design was realized with the 1990 opening of the Dorothea Ilgen Shaffer Art Building on the southeast corner of the Quad. Shaffer and her husband Maurice provided the lead gift, donating $3.25 million toward the building's construction.
"Dorothea Shaffer was not only an alumna of our college, but a champion of the arts and the education of artists and designers, including those at her alma mater," says VPA Dean Ann Clarke. "She was a true visionary, advocating for the value of cross-disciplinary practices in art and design well before they became the benchmark for relevant higher education practices they are today. In giving back to the University, she helped change the way the arts are viewed and celebrated on campus, and she created new opportunities for faculty and student success."
When completed, the Shaffer Art Building brought together two-dimensional and time-based disciplines—painting, art photography, illustration, museum studies and film among them—that had been scattered in different buildings, and elevated the arts to a central position on the SU campus. The building also encouraged greater interaction and collegiality among art and design faculty, graduate students and undergraduate students. In a 1991 article about the building's dedication in the college's magazine, then-VPA Dean Donald Lantzy referred to Shaffer as "our patron saint" and lauded the building's location, noting that it "suggests that art has value in every student's education."
"Dorothea Shaffer had a big vision of what art and design education could be, and she wanted Syracuse to have first-rate facilities," says Edward A. Aiken, associate professor of museum studies in VPA, who served as director of the Joe and Emily Lowe Art Gallery when it was renovated and reopened concurrently with the Shaffer Art Building in 1990. "Her gift allowed us to have a school of art and design that was worthy of our history and reputation."
The Shaffers also provided funds for fellowships in the college and established the Maurice E. Shaffer and Dorothea I. Shaffer Professorship in 1992.
Dorothea Shaffer served on the SU Board of Trustees from 1968-80 and was named an honorary Trustee in 1980. She was also a past member of VPA's advisory council and a seven-term president of the Central Pennsylvania chapter of the SU Alumni Association. In 1990, the University awarded her an honorary doctor of fine arts degree. She was also a recipient of the University's Outstanding Alumni Award and the Melvin Eggers Senior Alumni Award.
"Dottie Shaffer epitomized the pioneering, entrepreneurial spirit of Syracuse University," says SU Chancellor and President Nancy Cantor. "She not only earned undergraduate and graduate degrees at a time when few women went to college at all, but she seized opportunities to launch and lead businesses, as well as assume leadership roles in civic and community life. Her profound generosity and warmth have left an indelible imprint on SU and on so many students, faculty and staff. We will miss her greatly, but always cherish her memory as an inspiration."
Shaffer was a life member of the Royal Society of Arts in London, England. She was president of the William Penn Memorial Museum Associates, a member of Dauphin County Lawyers Wives, vice president of the board of trustees of Shippensburg University and a trustee and honorary trustee of Messiah College. She previously resided in Harrisburg and Boca Raton, Fla.
Shaffer was predeceased by her husband, Maurice, and her brother Kenneth Ilgen.